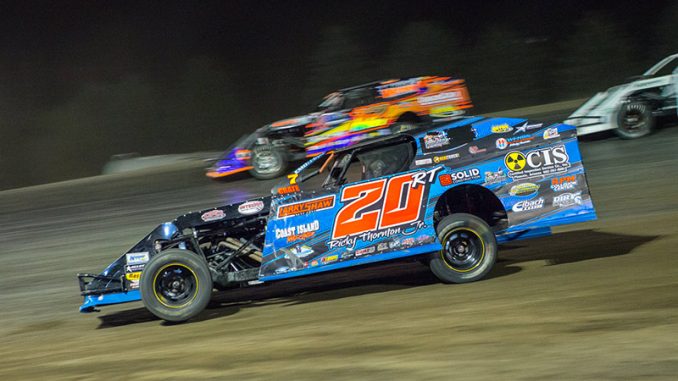 MANDAN, N.D. (July 15) – An Xtreme Motor Sports IMCA Modified driver well on his way to becoming a dirt track legend beat a driver who's already achieved that status to the $10,001 checkers Friday night at Dacotah Speedway.
Ricky Thornton Jr. led the last 38 of 50 laps, finishing no more than a car length ahead of Kelly Shryock. The highest paying event in history for IMCA Modifieds in North Dakota was also the top career payday for Thornton when the $1 at the end of the $10,001 – plus a $500 bonus for leading at halfway – were figured in.
"There were a lot of the top guys (86 in all) here tonight," said Thornton, who'd won for the 100th time in his IMCA Modified career when the Kupper Chevrolet Dakota Classic Tour concluded in front of another full house at Mandan on Thursday. "To be able to win the inaugural Legendary puts icing on the cake."
Pole starter Shawn Strand led the first lap before Mark Dahl drove by. Thornton had started ninth, was in the runner-up position by lap five and then used the high line to take charge up front on lap 12.
He used multiple lines in building his lead and had caught up with the back of the field before the only caution of the contest came for the mandatory pit stop on the front straight after midway.
Shryock had moved into second just before the yellow. He was side-by-side with Thornton after the race resumed and the six circuits were scored.
The second half of the Legendary was worth the price of admission alone as the front two battled high and low, Thornton finally using his momentum off the top side to edge Shryock at the finish by the narrowest of margins.
"I could run wherever I wanted. The car was just that good," Thornton said. "I figured if I got up top and kept my momentum going it would make it hard for anybody to pass me. It kind of all played out right for me and I'm glad it was Kelly racing with me. He races everybody clean."
"We're headed home next and will race at Hamilton County Speedway on Saturday," he added. "I'll probably be on cloud nine for at least a week."
Dakota Tour champion Hunter Marriott won his "B" feature, started 12th and ended in third. Aaron Turnbull rocketed from 16th starting to fourth and 19th starting Jason Wolla led a stellar group of home state drivers with his fifth place finish at the Corral Sales-sponsored Legendary.
Feature results – 1. Ricky Thornton Jr., Harcourt, Iowa; 2. Kelly Shryock, Fertile, Iowa; 3. Hunter Marriott, Brookfield, Mo.; 4. Aaron Turnbull, Estevan, Sask.; 5. Jason Wolla, Ray; 6. Mark Dahl, Bismarck; 7. Shawn Strand, Mandan; 8. Jay Noteboom, Hinton, Iowa; 9. Lucas Schott, Chatfield, Minn.; 10. Jeff Taylor, Cave City, Ark.; 11. Cody Laney, Torrance, Calif.; 12. Ethan Dotson, Bakersfield, Calif.; 13. Spencer Wilson, Minot; 14. Josh Eberhardt, Jamestown; 15. Tom Berry Jr., Boone, Iowa; 16. Travis Ulmer, Mandan; 17. Jason Grimes, Jamestown; 18. Lance Mari, Imperial, Calif.; 19. Jeremy Keller, Mandan; 20. Paul Stone, Winton, Calif.; 21. Drew Christianson, Minot; 22. Tyler Wagner, Weyburn, Sask.; 23. Robert Hellebust, Minot; 24. Steven Pfeifer, Minot; 25. Mark Elliott, Webster City, Iowa; 26. Greg Friestad, Valley City.
Heat winners were Shryock, Grimes, Taylor, Friestad, Stone, Elliott, Strand, Thornton, Dahl and Ulmer.
1st "B" feature (top three) – 1. Schott; 2. Turnbull; 3. Noteboom. 2nd "B" feature – 1. Marriott; 2. Dotson; 3. Wagner. 3rd "B" feature – 1. Pfeifer; 2. Wilson; 3. Eberhardt. 4th "B" feature – 1. Laney; 2. Wolla; 3. Hellebust. 5th "B" feature – 1. Mari; 2. Berry; 3. Christianson.