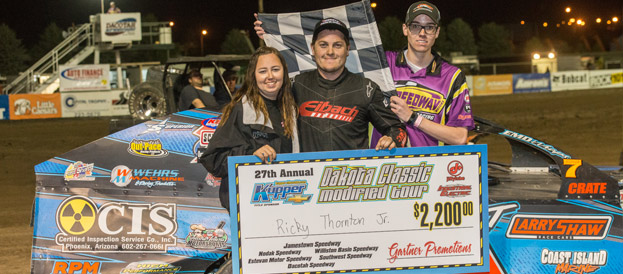 MANDAN, N.D. (July 14) – Ricky Thornton Jr. won for the 100th time in his Xtreme Motor Sports IMCA Modified career and Hunter Marriott reigned as champion of the Kupper Chevrolet Dakota Classic Tour Thursday night.
The biggest Modified tour in the world concluded with a single night record 101 cars entered at Dacotah Speedway. The 27th annual tour averaged an all-time best 90.4 Modifieds a night.
Thornton, the 2015 tour champion, led all but the first time around the track in a caution-free 30-lapper contested by many of the best drivers from across the United States and Canada. The checkers were Thornton's 22nd of the season and paid $2,200.
"It was pretty special to get my 100th win tonight, especially because this was the first tour race where they had more than 100 cars. There were a lot of good guys here tonight," said Thornton, noting that he'd needed a provisional to start at Mandan last year. "Everything just clicked for us tonight. Being out front with all that clean air in front of us helped."
The Arizona native now racing out of Iowa had put in an engine purchased from tour title sponsor Kupper Chevrolet earlier in the day. He pulled ahead early and spent much of the night running with lapped traffic. Lucas Schott took over second and the 11th starting Marriott moved into third after midway.
Jeff Taylor, another former tour champion, worked his way up from 19th on the initial grid to fourth. Robert Hellebust ended in fifth.
Thornton became the 48th driver in division history to reach the 100 win mark. He had collected a personal single-season best 31 checkers last season.
"There are a lot of big name drivers who have got to this point but I never thought I'd be one of them," Thornton said after his most recent Fast Shafts All-Star Invitational ballot qualifying victory. "It's definitely a big accomplishment to get this many wins."
One hundred and twenty-three Modified drivers from a dozen states and two Canadian provinces competed over the course of the tour. New track car count marks were also set at Jamestown Speedway (99) and Southwest Speedway (90).
Elijah Zevenbergen beat Dalton Flory and Andrew Altenburg to the finish line in the IMCA Sunoco Stock Car feature to win $800, plus his second straight and career third tour crown.
Zevenbergen and Altenburg went into Thursday tied for the point lead. Zevenbergen led all but the first circuit in the 25-lapper, then held off 2014 champion Flory following a couple late restarts.
Thirty-nine drivers from five states and Canada vied in the ninth annual Stock Car tour.
Friday at Mandan is the $10,001 to win Legendary special for IMCA Modifieds. Ninety-seven drivers made themselves eligible to qualify for that event by racing at least three nights of the tour.
The Legendary will be broadcast by IMCA.TV. Racing starts at 7 p.m.
Results
Modifieds – 1. Ricky Thornton Jr., Harcourt, Iowa; 2. Lucas Schott, Chatfield, Minn.; 3. Hunter Marriott, Brookfield, Mo.; 4. Jeff Taylor, Cave City, Ark.; 5. Robert Hellebust, Minot; 6. Mark Elliott, Webster City, Iowa; 7. Kyle Brown, State Center, Iowa; 8. Tom Berry Jr., Boone, Iowa; 9. Travis Hagen, Williston; 10. Jeremy Keller, Mandan; 11. Jason Wolla, Ray; 12. Kelly Shryock, Fertile, Iowa; 13. Shawn Strand, Mandan; 14. Jason Grimes, Jamestown; 15. Mark Dahl, Bismarck; 16. Mike Greseth, Harwood; 17. Spencer Wilson, Minot; 18. Ryan Mikkelson, Jamestown; 19. Tracy Domagala, Bismarck; 20. Jay Noteboom, Hinton, Iowa; 21. Tyson Turnbull, Estevan, Sask.; 22. Cody Laney, Torrance, Calif.; 23. Tim Perkins, Bismarck; 24. Kody Scholpp, Estevan, Sask.; 25. Jarrett Carter, Lisbon; 26. Clint Hatlestad, Glencoe, Minn.; 27. Jordan Huettl, Minot; 28. Ryan Ruter, Kanawha, Iowa; 29. Lance Mari, Imperial, Calif.
Heat winners were Brown, Mikkelson, Hagen, Thornton, Marriott, Berry, Dahl, Keller, Elliott, Hellebust, Schott and Grimes.
1st "B" feature (top two) – 1. Shryock; 2. Ruter. 2nd "B" feature – 1. Greseth; 2. Domagala. 3rd "B" feature – 1.  Wolla; 2. Huettl. 4th "B" feature – 1. Perkins; 2. Hatlestad. 5th "B" feature – 1. Strand; 2. Turnbull. 6th "B" feature – 1. Scholpp; 2. Carter. 7th "B" feature – 1. Taylor; 2. Noteboom. 8th "B" feature – 1. Wilson; 2. Mari.
Provisional – Laney.
Stock Cars – 1. Elijah Zevenbergen, Ocheyedan, Iowa; 2. Dalton Flory, Williston; 3. Andrew Altenburg, Truman, Minn.; 4. Matt Speckman, Sleepy Eye, Minn.; 5. Joren Boyce, Minot; 6. Jake Nelson, Williston; 7. Austin Daae, Estevan, Sask.; 8. Joe Flory, Williston; 9. Scott Yale, Minot; 10. Chris Ellis, Stanley; 11. Brock Beeter, Minot; 12. Beau Deschamp, Bottineau; 13. Jordan Durward, Grand Forks; 14. Bill Jones, Lignite; 15. Jeremy Swanson, Westby, Mont.; 16. Kelly Henderson, Minot; 17. Michael Vennes, Minot; 18. Brendan Eilts, Grand Island, Neb.; 19. Scott Gartner, Bismarck; 20. Keith Mattox, Ray; 21. Blaine Durward, Trenton; 22. Cody Nelson, Kenmare; 23. Kyler Jeffrey, Williston; 24. Chris Hortness, Estevan, Sask.
Heat winners were Ellis, Boyce, Altenburg and Zevenbergen. "B" feature winners were Joe Flory and Swanson.