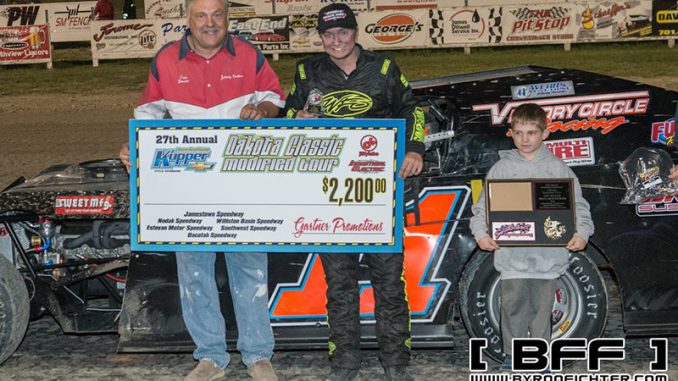 DICKINSON, N.D. (July 13) – Cody Laney followed the script Hunter Marriott had written the night before in winning Wednesday's Kupper Chevrolet Dakota Classic Tour main event.
In front of a packed grandstand at Southwest Speedway, Laney led all 30 laps in topping the $2,200 to win feature for Xtreme Motor Sports IMCA Modifieds.
A track tour record 90 Modifieds saw action at Dickinson. Marriott had led from start to finish Tuesday at Williston Basin Speedway and challenged Laney in the late going before settling for second at Southwest.
"I knew if I could hold my line, I'd be all right," said Laney, new to the Fast Shafts All-Star Invitational ballot and a three-time winner this season in his home state of California coming into the night. "Hunter was the one who worried me … I saw his nose a couple times but I kept hitting my marks."
Laney started outside the front row and held off Lucas Schott following a pair of early restarts. Marriott settled into second on lap 11 and tried high and low to get past Laney as the race ended with a long green flag run.
Laney held Marriott in check, gaining a little breathing room before taking the checkers.
Pole starter Dale Mathison ran near the front of the field all night and finished third. Schott and Ricky Thornton Jr. completed the top five.
Two-time and defending champion Elijah Zevenbergen outran 2014 tour king Dalton Flory in the $800 to win IMCA Sunoco Stock Car feature.
Zevenbergen caught Flory for the lead on lap eight and stayed in front the last 17 times around the track.
They pulled away from the rest of the pack in the waning circuits, leaving Joe Flory and "B" winners Andrew Altenburg and Jordan Durward to finish in that order behind them.
The final tour date is Thursday, July 14 at Dacotah Speedway in Mandan. Pit gates open at 3 p.m., the grandstand opens and hot laps start at 6 p.m., and racing gets underway at 7 p.m.
Dacotah Speedway also hosts the Friday, July 15 $10,001 Legendary for IMCA Modifieds. Racing starts at 7 p.m.
The Dakota Tour finale and Legendary will both be broadcast by IMCA.TV.com.
Results
Modifieds – 1. Cody Laney, Torrance, Calif.; 2. Hunter Marroitt, Brookfield, Mo.; 3. Dale Mathison, Clearwater, Minn.; 4. Lucas Schott, Chatfield, Minn.; 5. Ricky Thornton Jr., Harcourt, Iowa; 6. Steven Pfeifer, Minot; 7. Tom Berry Jr., Boone, Iowa; 8. Kelly Shryock, Fertile, Iowa; 9. Jason Wolla, Ray; 10. Ethan Dotson, Bakersfield, Calif.; 11. Jeff Taylor, Cave City, Ark.; 12. Spencer Wilson, Minot; 13. Jay Noteboom, Hinton, Iowa; 14. Ricky Alvarado, Delta, Colo.; 15. Tim Perkins, Bismarck; 16. Travis Hagen, Williston; 17. Jason Grimes, Jamestown; 18. Travis Olheiser, Dickinson; 19. Josh Eberhardt, Jamestown; 20. Clint Hatlestad, Glencoe, Minn.; 21. Ryan Schroeder, Devil's Lake; 22. Lance Mari, Imperial, Calif.; 23. Brad Hartigan, Dickinson; 24. Mark Dahl, Bismarck; 25. Ryan Ruter, Kanawha; 26. Robert Hellebust, Minot; 27. David Brown, Kellogg, Iowa; 28. Troy Heupel, Williston; 29. Mike Hansen, Dickinson.
Heat winners were Hansen, Mathison, Laney, Schott, Thornton, Marriott, Ruter, Pfeifer, Dahl and Dotson.
1st "B" feature (top three) – 1. Berry; 2. Perkins; 3. Hagen. 2nd "B" feature – 1. Grimes; 2. Eberhardt; 3. Schroeder. 3rd "B" feature – 1. Noteboom; 2. Hartigan; 3. Brown. 4th "B" feature – 1. Hatlestad; 2. Alvarado; 3. Hellebust. 5th "B" feature – 1. Wolla; 2. Taylor; 3. Olheiser. 6th "B" feature – 1. Shryock; 2. Wilson; 3. Mari.
Provisional – Heupel.
Stock Cars – 1. Elijah Zevenbergen, Ocheyedan, Iowa; 2. Dalton Flory, Williston; 3. Joe Flory, Williston; 4. Andrew Altenburg, Truman, Minn.; 5. Jordan Durward, Grand Forks; 6. Jeremy Swanson, Westby, Mont.; 7. Matt Speckman, Sleepy Eye, Minn.; 8. Joren Boyce, Minot; 9. Chris Ellis, Stanley; 10. Keith Mattox, Ray; 11. Cody Nelson, Kenmare; 12. Scott Yale, Minot; 13. Kelly Henderson, Minot; 14. Matt Lang, Turtle Lake; 15. Brock Beeter, Minot; 16. Beau Deschamp, Bottineau; 17. Jake Nelson, Williston; 18. Chris Hortness, Estevan, Sask.; 19. Bill Jones, Lignite; 20. Michael Vennes, Minot; 21. Rob Stenvold, Minot; 22. Gary Goudy Jr., Stoughton, Sask.; 23. Scott Gartner, Bismarck; 24. Austin Daae, Estevan, Sask.
Heat winners were Joe Flory, Speckman, Dalton Flory and Boyce. "B" feature winners were Durward and Altenburg.