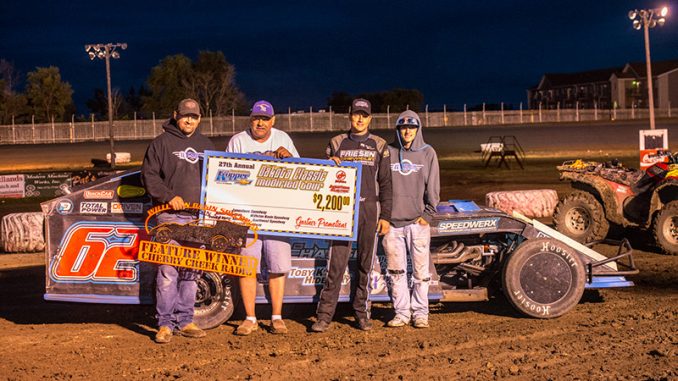 WILLISTON, N.D. (July 12) – Another big Xtreme Motor Sports IMCA Modified event ended with Hunter Marriott holding the big check.
Marriott led all 25 laps of Tuesday's Kupper Chevrolet Dakota Classic Tour main event at Williston Basin Speedway and earned $2,200. He pulled away from the rest of the pack following the initial start and again after the only caution of the contest, on lap 10.
Lucas Schott was a distant second while 2014 tour champion Jeff Taylor used multiple lines in racing from 10th starting to third.
Jason Grimes started 17th and finished fourth; rounding out the top five was Jason Wolla.
Marriott was already on the Fast Shafts All-Star Invitational ballot. Seventy-four Modified drivers from a dozen states and Canada were entered at Williston. Eight states and Saskatchewan were represented in the main event.
Joren Boyce, a former Modified tour champion, passed Matt Speckman on the fourth circuit and led to the end of the 20-lap IMCA Sunoco Stock Car feature.
Three cautions slowed the early going but the race stayed green the last 17 laps. Boyce beat Speckman across the stripe by a car length. Andrew Altenburg was third.
Features at Williston were the first held in the 27th annual tour, following rainouts at Jamestown Speedway, Nodak Speedway and Estevan Motor Speedway.
The tour is at Southwest Speedway in Dickinson on Wednesday, July 13. Pit gates open at 2 p.m. and the grandstand opens at 3 p.m. Hot laps follow the 6:30 p.m. drivers' meeting and racing starts at 7 p.m.
Dacotah Speedway at Mandan hosts both the Thursday, July 14 tour date and the Friday, July 15 $10,001 to win Legendary special for IMCA Modifieds.
Feature Results
Modifieds – 1. Hunter Marriott, Brookfield, Mo.; 2. Lucas Schott, Chatfield, Minn.; 3. Jeff Taylor, Cave City, Ark.; 4. Jason Grimes, Jamestown; 5. Jason Wolla, Ray; 6. Clint Hatlestad, Glencoe, Minn.; 7. Hank Berry, Sidney, Mont.; 8. Tom Berry Jr., Boone, Iowa; 9. Ricky Alvarado, Delta, Colo.; 10. Cody Laney, Torrance, Calif.; 11. Tyson Turnbull, Estevan, Sask.; 12. Troy Heupel, Williston; 13. Chris Schroeder, Williston; 14. Travis Hagen, Williston; 15. Kyle Brown, State Center, Iowa; 16. Lance Mari, Imperial, Calif.; 17. David Brown, Kellogg, Iowa; 18. Ethan Dotson, Bakersfield, Calif.; 19. Mike Hansen, Dickinson; 20. Ryan Ruter, Kanawha, Iowa; 21. Josh Wolla, Minot; 22. Chris Bragg, Springtown, Texas; 23. Kody Scholpp, Estevan, Sask.; 24. Mike Hagen, Williston; 25. John Flory, Williston; 26. Jamall Wold, Arnegard; 27. Ricky Thornton Jr., Harcourt, Iowa; 28. Steven Pfeifer, Minot; 29. Jay Noteboom, Hinton, Iowa.
Heat winners were Hank Berry, Schott, Hatlestad, Bragg, Alvarado, Marriott, Jason Wolla and Tom Berry Jr.
1st "B" feature (top five) – 1. Schroeder; 2. Laney; 3. Grimes; 4. Ruter; 5. David Brown. 2nd "B" feature – 1. Taylor; 2. Heupel; 3. Josh Wolla; 4. Hagen; 5. Wold. 3rd "B" feature – 1. Dotson; 2. Turnbull; 3. Kyle Brown; 4. Mari; 5. Pfeifer. 4th "B" feature – 1. Thornton; 2. Hansen; 3. Hagen; 4. Scholpp; 5. Flory.
Provisional – Noteboom.
Stock Cars – 1. Joren Boyce, Minot; 2. Matt Speckman, Sleepy Eye, Minn.; 3. Andrew Altenburg, Truman, Minn.; 4. Chris Hortness, Estevan, Sask.; 5. Jeremy Swanson, Westby, Mont.; 6. Elijah Zevenbergen, Ocheyedan, Iowa; 7. Chris Ellis, Stanley; 8. Dalton Flory, Williston; 9. Jake Nelson, Williston; 10. Austin Daae, Estevan, Sask.; 11. Joe Flory, Williston; 12. Rob Stenvold, Minot; 13. Brock Beeter, Minot; 14. Bill Jones, Lignite; 15. Jordan Durward, Grand Forks; 16. Dave Swallers, Williston; 17. Michael Vennes, Minot; 18. Derrick Linghor, Williston; 19. Mike Gotch, Regina, Sask.; 20. Scott Yale, Minot; 21. Beau Deschamp, Bottineau; 22. Cody Nelson, Kenmare; 23. Tim Sorenson, Williston; 24. Blaine Durward, Trenton.
Heat winners were Boyce, Altenburg, Hortness and Speckman. "B" feature winners were Zevenbergen and Dalton Flory.