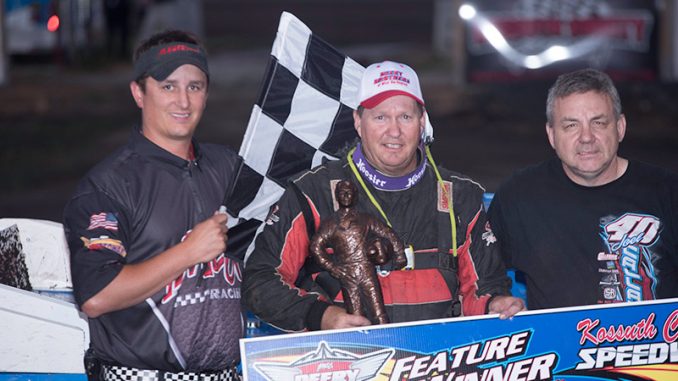 ALGONA, Iowa (July 7) – Joel Callahan and Jeff Aikey were the big winners Thursday at Kossuth County Speedway.
While Callahan paced the Deery Brothers Summer Series main event and earned $2,000, Aikey edged Tyler Bruening by all of one point to top standings for the first half of the IMCA Late Model tour season for a $2,500 prize.
The 30-lap main event ran caution-free. Callahan started on the pole and was not seriously challenged as lapped traffic never became an issue and the closest Bruening could get in the waning circuits was four car lengths back.
Cayden Carter, Charlie McKenna and Ryan Dolan completed the top five. Carter was also the $250 Sunoco Race Fuels feature qualifier drawing winner.
Callahan's win was his Deery career fifth and second this season.
Skies over Algona were dark earlier in the evening, with a tornado warning to the north and storm warnings all around, but a rainbow greeted Late Model drivers as they drove onto the track for their main event.
The ninth event of the 30th annual tour is Sunday, July 10 at Dubuque Speedway. That 50-lap feature also pays $2,000 to win and a minimum of $300 to start.
Pit gates open at 4 p.m. and the grandstand opens at 5 p.m. Hot laps are at 6 p.m. with racing to follow. Spectator admission is $16 for adults, $14 for seniors, $10 for students ages 13-17 and free for 12 and under. Pit passes are $30.
Xtreme Motor Sports IMCA Modifieds, IMCA Sunoco Stock Cars and Karl Chevrolet Northern SportMods complete the program.
Feature results – 1. Joel Callahan, Dubuque; 2. Tyler Bruening, Decorah; 3. Cayden Carter, Oskaloosa; 4. Charlie McKenna, Clear Lake; 5. Ryan Dolan, Lisbon; 6. Joe Zrostlik, Long Grove; 7. Jeff Aikey, Cedar Falls; 8. Andy Nezworski, Buffalo; 9. Matt Ryan, Davenport; 10. Jeremy Grady, Story City; 11. Darrel DeFrance, Marshalltown; 12. Scott Fitzpatrick, Wheatland; 13. Chad Holladay, Muscatine; 14. Ben Seemann, Waterloo; 15. Curt Schroeder, Newton; 16. Gabe Umbarger, Garner; 17. Richie Gustin, Gilman.
1st heat – 1. Grady; 2. Aikey; 3. Callahan; 4. Ryan; 5. Carter; 6. Nezworski; 7. Schroeder; 8. Seemann; 9. Gustin.
2nd heat – 1. Holladay; 2. Bruening; 3. McKenna; 4. Dolan; 5. Zrostlik; 6. Fitzpatrick; 7. DeFrance; 8. Umbarger.