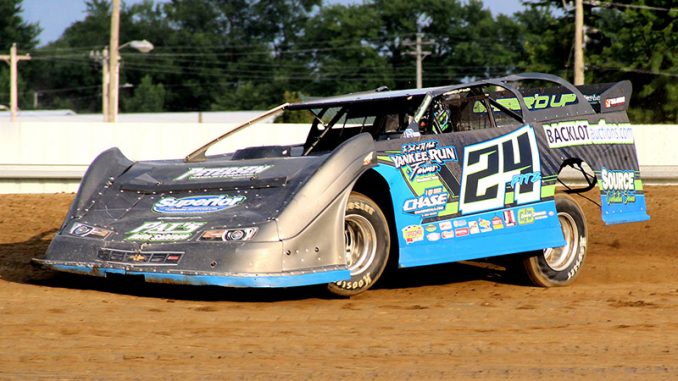 INDEPENDENCE, Iowa (July 6) – Scott Fitzpatrick took home a prize better than any blue ribbon Wednesday night.
Fitzpatrick became the first repeat winner in the 30th annual Deery Brothers Summer Series, top­ping the 40-lap main event for IMCA Late Models at Independence Motor Speedway.
The Buchanan County Fair special checkers were worth $2,000.
Fitzpatrick passed pole starter Jon Passick on the sixth circuit and led to the end of the 40-lapper.
Denny Eckrich pulled close twice before Fitzpatrick got a lapped car ahead just after midway. The race had boiled down to a two-car battle, with Matt Ryan alone in third and points leader Jeff Ai­key by himself in fourth, before the final caution came out with 12 laps left.
Fitzpatrick then pulled away from the pack to win easily in front of Eckrich, Ryan, Aikey and Cay­den Carter, who'd started 16th.
Tyler Bruening took the initial green from 17th and ended in sixth. Provisional starter Andy Eckrich raced from shotgun on the field to ninth for hard charger honors.
Fitzpatrick had won for the first time in his Deery career at Hamilton County Speedway in April.
Ninety-nine cars were on hand for the mid-week event.
Other winners on Dale Miller Memorial Night at Independence were Tyler Droste, whose $1,300 Xtreme Motor Sports IMCA Modified victory put him on the ballot for the Fast Shafts All-Star Invita­tional, and Dan Drury, who earned $500 along with the Karl Chevrolet Northern SportMod checkers.
Night two of the midweek doubleheader for the Deery Series is Thursday, July 7 at Kossuth County Speedway in Algona. That main event also pays $2,000 to win and a minimum of $300 to start
Pit gates and the grandstand both open at 5:30 p.m. Hot laps are at 6:30 p.m. with racing to fol­low.
Spectator admission is $15 for adults and 14 and under are free. Pit passes are $30.
The series is at Dubuque Speedway on Sunday, July 10.
Feature Results
Deery Series – 1. Scott Fitzpatrick, Wheatland; 2. Denny Eckrich, Tiffin; 3. Matt Ryan, Daven­port; 4. Jeff Aikey, Cedar Falls; 5. Cayden Carter, Oskaloosa; 6. Tyler Bruening, Decorah; 7. Tyler Droste, Waterloo; 8. Chad Holladay, Muscatine; 9. Andy Eckrich, Oxford; 10. Travis Smock, West Des Moines; 11. Jon Passick, Waterloo; 12. Andy Nezworski, Buffalo; 13. Jay Johnson, West Burling­ton; 14. Joel Callahan, Dubuque; 15. Ryan Dolan, Lisbon; 16. Dan Shelliam, Hazel Green Wis.; 17. Ben Seemann, Waterloo; 18. Darrel DeFrance, Marshalltown; 19. Greg Kastli, Waterloo; 20. Curt Martin, Independence; 21. Joe Zrostlik, Long Grove; 22. Ray Guss Jr., Milan, Ill.; 23. Todd Cooney, Des Moines; 24. Richie Gustin, Gilman.
1st heat (top three) – 1. Ryan; 2. Smock; 3. Jay Johnson; 4. Nezworski; 5. Bruening; 6. De­France; 7. Eric Pollard, Peosta; 8. Curt Schroeder, Newton; 9. Jerry King, Waterloo.
2nd heat – 1. Aikey; 2. Zrostlik; 3. Martin; 4. Droste; 5. Dolan; 6. Russell Hesse, Waterloo; 7. Rory Metcalf, West Union; 8. Chris Snyder, Raymond; 9. Greg Kastli, Waterloo.
3rd heat – 1. Passick; 2. Guss; 3. Denny Eckrich; 4. Holladay; 5. Gustin; 6, Cooney; 7. Rick Wendling, Hazleton; 8. Callahan; 9. Bobby Hansen, Center Point.
4th heat – 1. Fitzpatrick; 2. Shelliam; 3. Seemann; 4. Carter; 5. Andy Eckrich; 6. Charlie McKenna, Clear Lake; 7. Sean Johnson, Independence; 8. Justin Kay, Wheatland.
1st "B" feature (top four) – 1. Droste; 2. Nezworski; 3. Bruening; 4. Dolan; 5. Hesse; 6. De­France; 7. Metcalf; 8. Kastli; 9. Pollard; 10. Schroeder; 11. Snyder; 12. King.
2nd "B" feature – 1. Holladay; 2. Carter; 3. Gustin; 4. Cooney; 5. McKenna; 6. Andy Eckrich; 7. Sean Johnson; 8. Kay; 9. Wendling; 10. Callahan; 11. Hansen.
Non-qualifier dash – 1. Metcalf; 2. Wendling; 3. McKenna; 4. Hesse; 5. Hansen; 6. Schroeder; 7. Pollard; 8. Snyder; 9. Sean Johnson; 10. Kay; 11. King.
Modifieds – 1. Tyler Droste, Waterloo; 2. Brian Irvine, Oelwein; 3. Richie Gustin, Gilman; 4. Joel Rust, Grundy Center; 5. Ronn Lauritzen, Jesup; 6. Hunter Marriott, Brookfield, Mo.; 7. Justin Kay, Wheatland; 8. Zach Less, Manchester; 9. Justin O'Brien, West Union; 10. Scott Hogan, Vinton; 11. Jason Morehouse, Evansdale; 12. Jenae Gustin, Marshalltown; 13. Patrick Flannagan, Cedar Rapids; 14. Brennan Chipp, Waterloo; 15. J.D. Auringer, Evansdale; 16. Jason Snyder, Dunker­ton; 17. Brandon Maitland, Waterloo; 18. Joe Docekal, Dysart; 19. Josh Sherbon, Cedar Falls; 20. Ed Thomas, Waterloo; 21. Tim Ward, Harcourt; 22. Jeffrey Streeter, Madera, Calif.; 23. Vern Jack­son, Waterloo; 24. Troy Cordes, Dunkerton.
Northern SportMods – 1. Dan Drury, Eldora; 2. Joey Schaefer, Waterloo; 3. Ben Chapman, Clar­ence; 4. Tony Olson, Cedar Rapids; 5. Brian Hilbert, Independence; 6. Jim Buhlman, Cedar Falls; 7. Sean Vogt, Watkins; 8. Andy Edwards, Parkersburg; 9. Brandon Tharp, Center Point; 10. Greg Barnett, Plainfield; 11. Leah Wroten, Independence; 12. Ryan King, Montour; 13. Andy Hunter, Independence; 14. Kyle Olson, Cedar Rapids; 15. Curt Hilmer, Dysart; 16. Brett Vanous, Quasqueton; 17. Lucas Lundry, Maynard; 18. Tyler Soppe, Sherrill; 19. Christian Jordan, Lowden; 20. Aaron Mitchell, Palo; 21. Nate Smith, Cedar Falls; 22. Justin Temeyer, Independence; 23. Kyle Bentley, Fairbank.