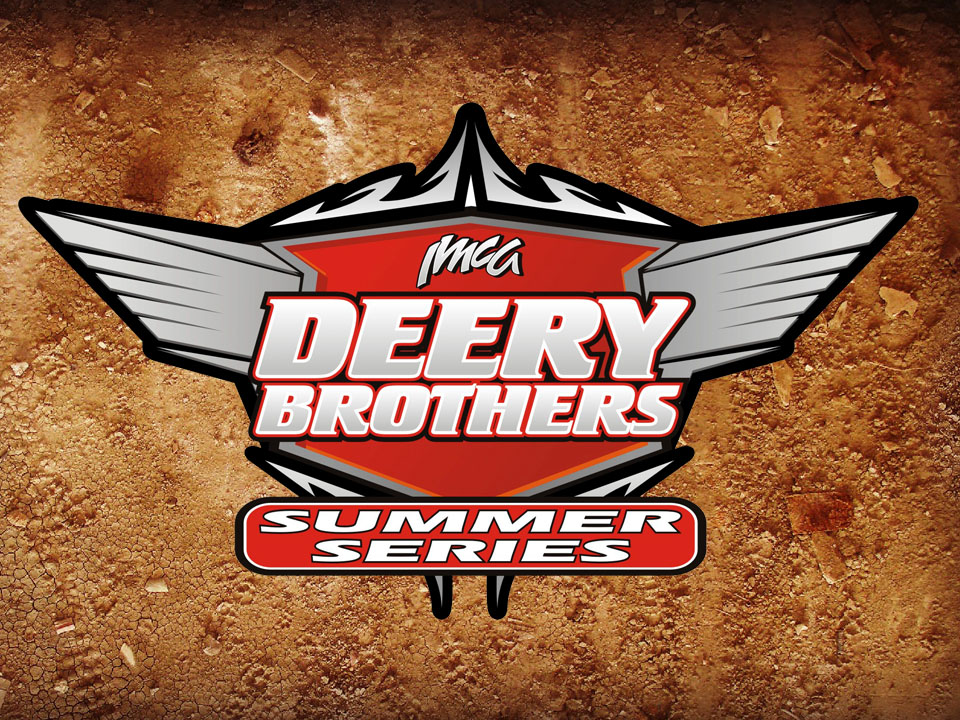 VINTON, Iowa (June 29) – A pair of midweek events are next on the schedule for the 30th annual Deery Brothers Summer Series.
Touring IMCA Late Models race for $2,000 to win and a minimum of $300 to start on Wednesday, July 6 at Independence Motor Speedway and Thursday, July 7 at Kossuth County Speedway in Algona.
The series is still looking for its first repeat winner as Denny Eckrich, Curt Martin, Scott Fitzpat­rick, Joel Callahan, Ray Guss Jr. and Justin Kay all have made their way to victory lane through the first six events.
Seven-time champion Jeff Aikey maintains a tenuous hold on the point standings heading to In­dee. The $9,325 tour point fund for the first half of the series will be paid to drivers in top 10 stand­ings following the Algona event.
This Independence show is during the Buchanan County Fair and there will be a separate en­trance between the pit shack and the grandstand where fans can purchase spectator admission without paying to get into the fair as well.
Tickets are $16 for adults and $12 for seniors and students, with 11 and under free. Pit gates and the grandstand both open at 5 p.m. Hot laps are at 6:45 p.m. with racing to follow.
Also running are Xtreme Motor Sports IMCA Modifieds in the Dale Miller Memorial for $1,000 to win and Karl Chevrolet Northern SportMods for $500 to win. National, regional and state but no local track points will be awarded for the draw/redraw show.
More information is available by calling 319 474-7177 and at the www.raceindee.com website.
Pit gates and the grandstand both open at 5:30 p.m. Thursday at Algona. Hot laps are at 6:30 p.m. with racing to follow.
Spectator admission is $15 for adults and 14 and under are free.
Also running are Xtreme Motor Sports IMCA Modifieds, IMCA Sunoco Stock Cars, IMCA Sunoco Hobby Stocks, Karl Chevrolet Northern SportMods and Mach-1 Sport Compacts for all points, including local track.
More information is available by calling 515 341-3562 and at the www.kossuthcountyspeedway.com website.
Pit passes are $30 both nights.
Independence has been a frequent stop for the series since its inaugural season. Martin has won six Deery events at his hometown track while Aikey counts four local checkers among his career-leading 66 victories, among them his first tour victory, on June 2 of 1987.
Next Thursday's show will be just the third held at Algona. Darrel DeFrance, who has competed at all 457 events in series history, won there in 2008 while Andy Nezworski topped the Kossuth County Speedway headliner last July.
The second half of the Deery Series season kicks off with another $2,000 to win, minimum $300 to start event on Sunday, July 10 at Dubuque Speedway.
Deery Brothers Summer Series top 20 point standings – 1. Jeff Aikey, Cedar Falls, 258; 2. Tyler Bruening, Decorah, 254; 3. John Emerson, Waterloo, and Ryan Dolan, Lisbon, both 249; 5. Scott Fitzpatrick, Wheatland, 237; 6. Matt Ryan, Davenport, 226; 7. Richie Gustin, Gilman, 225; 8. Joe Zrostlik, Long Grove, and Joel Callahan, Dubuque, both 222; 10. Darrel DeFrance, Mar­shalltown, 220; 11. Cayden Carter, Oskaloosa, 214; 12. Andy Nezworski, Buffalo, 213; 13. Tyler Droste, Waterloo, 209; 14. Chad Holladay, Muscatine, 204; 15. Denny Eckrich, Tiffin, 170; 16. Ray Guss Jr., Milan, Ill., 156; 17. Andy Eckrich, Oxford, 152; 18. Jason Rauen, Farley, and Jere­miah Hurst, Dubuque, both 141; 20. Eric Pollard, Peosta, 137.