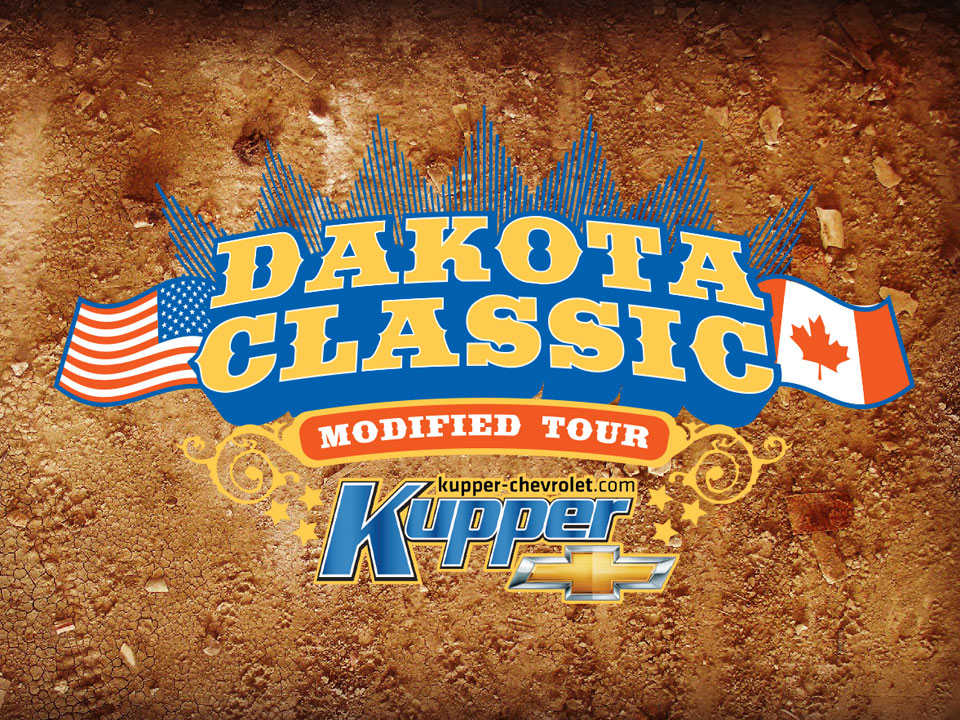 MANDAN, N.D. – One hundred and twelve drivers have completed pre-registration for the July 9-14 Kup­per Chevrolet Dakota Classic Tour.
All Xtreme Motor Sports IMCA Modified features over the course of the 27th annual tour pay $2,200 to win, a minimum of $300 to start and are qualifying events for the Fast Shafts All-Star Invitational ballot. IMCA Sunoco Stock Car features pay $800 to win and a minimum of $125 to take the green.
Pre-entries now represent a dozen states and the provinces of Manitoba and Saskatchewan.
After opening night July 9 at Jamestown Speedway, the tour travels to Nodak Speedway in Minot on July 10, to Estevan, Sask., Motor Speedway on July 11, Williston Basin Speedway on July 12, Southwest Speedway in Dickinson on July 13 and to Dacotah Speedway in Mandan for the July 14 finale.
Modified drivers who have pre-entered include:
Ricky Alvarado, Grand Junction, Colo.; Shawn Anderson, Minot; Dylan Barnhardt, Washburn; Chris Barros, Bismarck; Terry Berg, Sioux City, Iowa; Hank Berry, Sidney, Mont.; Kevin Bliese, Bath, S.D.; Bland Bohan­non, Williston; Pete Bradley, Williston; Chris Bragg, Springtown, Texas; Brian Brennan, Rozet, Wyo.; Kyle Brown, State Center, Iowa; Randy Brown, Chowchilla, Calif.; Jarrett Carter, Lisbon; Chase Conway, Westhope; Rusty Corneliusen, Dickinson; Ryan Cousins, Morden, Manitoba; and Tracy Domagala, Bismarck;
Ethan Dotson, Bakersfield, Calif.; Josh Eberhardt, Jamestown; Mark Elliott, Webster City, Iowa; Riley Emmel, Estevan, Sask.; Al­lan Fetzer, Max; John Flory, Williston; Greg Friestad, Valley City; Jason Grimes, Jame­stown; Travis Hagen, Williston; Mike Hagen, Williston; Mike Hansen, Dickinson; Brad Hartigan, Dickinson; Clint Hatlestad, Glencoe, Minn.; Robert Hellebust, Minot; Troy Heupel, Williston; Jason Hicks, Dickinson; and Vern Hill, Black Eagle, Mont.;
Jordan Huettl, Minot; Wayne Johnson, Minot; Jeremy Keller, Mandan; Troy Kittler, Turtle Lake; Karie Kjonaas, Argusville; Randy Kollman, Jamestown; Rusty Kollman, Carrington; Cody Laney, Torrance, Calif.; Tommy Lee, Grenora; Lance Mari, Imperial, Calif.; Hunter Marriott, Brookfield, Mo.; Tony Marsh, Dickinson; Jerry Martin, Moorcraft, Wyo.; Dale Mathison, Clearwater, Minn.; Tanner Matthewson, Redvers, Sask.; and Ryan Mikkelson, Jamestown;
Dale Neitzel, Shepherd, Mont.; Shawn Nostdahl, Bottineau; Jay Noteboom, Hinton, Iowa; Travis Olheiser, Dickinson; Steven Pfeifer, Minot; Crist Pittenger, Bismarck; Dallas Rice, Minot; Shawn Ritter, Keystone, Iowa; Josh Rogotzke, Sanborn, Minn.; Ryan Ruter, Kanawha, Iowa; Darren Schatz, Williston; Brent Schlaf­mann, Bismarck; Kody Scholpp, Estevan, Sask.; Lucas Schott, Chatfield, Minn.; Marlyn Seidler, Underwood; and Kelly Shryock, Fertile, Iowa;
And Roy Spielman, Mills, Wyo.; Alex Stanford, Chowchilla, Calif.; Paul Stone, Winton, Calif.; Shawn Strand, Mandan; Jerad Thelen, Minot; Jeff Taylor, Cave City, Ark.; Ricky Thornton Jr., Harcourt, Iowa; Marcus Tomlinson, Turtle Lake; Myles Tomlinson, Turtle Lake; Jay Tooley, Dickinson; Aaron Turnbull, Estevan, Sask.; Tyson Turnbull, Estevan, Sask.; Travis Ulmer, Mandan; Billy Vogel, West Fargo; Tyler Wagner, Weyburn, Sask.; Spencer Wilson, Minot; Jason Wolla, Ray; and Josh Wolla, Minot.
Pre-entered Stock Car drivers are:
Andrew Altenburg, Truman, Minn.; Joren Boyce, Minot; Austin Daae, Estevan, Sask.; Josh De­Foe, Williston; Blaine Durward, Trenton; Jordan Durward, Trenton; Brendan Eilts, Grand Island, Neb.; Chris Ellis, Stanley; Dalton Flory, Williston; Joe Flory, Williston; Mike Gotch, Regina, Sask.; Gary Goudy Jr., Stoughton, Sask.; and Kelly Henderson, Minot;
And Chris Hortness, Estevan, Sask.; Kyler Jeffrey, Williston; Matt Lang, Turtle Lake; Kary Larson, Crosby; Keith Mattox, Ray; Kevin Mattox, Ray; Cody Nelson, Kenmare; Jake Nelson, Williston; Randy Schultz, Swift Current, Sask.; Matt Speckman, Sleepy Eye, Minn.; Rob Stenvold, Minot; Jeremy Swanson, Westby, Mont.; Michael Vennes, Minot; and Elijah Zevenbergen of Ocheyedan, Iowa.
Drivers in both divisions can go on line to complete the early registration process; the series web­site is www.dakotaclassictour.com.
Tour title sponsor Kupper Chevrolet of Mandan provides point funds of $2,000 for the Modifieds and $1,000 for the Stock Cars. Entry fees each night of the tour are $30 for Modifieds and $25 for Stock Cars. Pit passes are $25.
Pit gates open at 2 p.m. and the grandstand opens at 5 p.m. at Jamestown. Hot laps are at 6:15 p.m. and racing starts at 7 p.m. Nodak opens pit gates open at 11 a.m. The grandstand opens and hot laps are at 6 p.m. Racing starts at 7 p.m.
At Estevan, pit gates open at 3 p.m. and the grandstand opens at 5 p.m. Hot laps are at 6 p.m. and racing starts at 7 p.m. Williston opens the pits at 3 p.m. and the grandstand at 5:30 p.m. Hot laps are at 6 p.m. and racing starts at 7 p.m.
Pit gates at Southwest open at 2 p.m. and the grandstand opens at 3 p.m. Hot laps follow the 6:30 p.m. drivers' meeting and racing starts at 7 p.m.  And at Dacotah Speedway, pit gates open at 3 p.m. and the grandstand opens at 6 p.m. Hot laps are at 6 p.m. and racing starts at 7 p.m.
More information is available from Tour Director John Gartner at 701 202-6075.
All six Dakota Tour events as well as the $10,001 to win Legendary at Dacotah Speedway on July 15 will be broadcast by IMCA.TV.