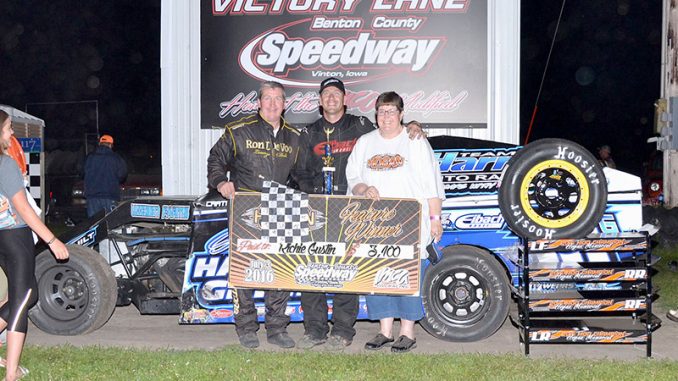 VINTON, Iowa (July 3) – Richie Gustin didn't recall a lot of drama while en route to winning the Hogan Memorial in 2012.
The 2016 version of the Benton County Speedway special for Xtreme Motor Sports IMCA Modifieds had plenty of that, though, as Gustin outran Todd Shute and the 21st starting Hunter Marriott for the Sunday night victory at Vinton.
"It turned into a heck of a race," said Gustin, $3,100 richer after regaining the lead with 10 circuits left in the 50-lapper, which came to a green, white, checkered finish after a late caution. "I ran the top, middle, bottom … this was as much fun as I've had in a race this year for sure."
The 22nd annual event played out before a very full grandstand with a total car count of more than 130, including 47 Modifieds. Total purse for the holiday weekend event was more than $30,000.
Other winners during the Hogan were Damon Murty and Ben Chapman, who pocketed $1,000 for IMCA Sunoco Stock Car and Karl Chevrolet Northern SportMod wins, respectively, and Benji Irvine, who earned $750 for his IMCA Sunoco Hobby Stock win.
Gustin drew the pole for the Fast Shafts All-Star Invitational ballot qualifier and led the first 11 laps before Shute slipped past on the lower line.
The front pair got into lapped traffic just before Mike Jergens slowed in the first set of turns to bring out the first caution of the contest on lap 20.
Shute was scored first when the race was halted for a five-minute pitstop at halfway. Corey Dripps was quick to pass Gustin for second after the race restarted and had the lead by lap 30.
He was pulling away from Gustin in what looked to be turning into a two-car battle before brake issues began settling in and forced Dripps to fall back.
Gustin resumed his place up front, holding on through the late restart to win ahead of Shute, Marriott, Auringer and Dripps.
Cayden Carter, another former race winner, started 24th and finished sixth.
"I have the ultimate respect for Todd Shute and Corey Dripps. Looking through the field there were guys like Kyle Brown and Kyle Strickler, Scott Hogan who was racing on his home track and R.C. Whitwell who has won a lot of late model races," Gustin said. "This was definitely a stacked group of racers … a who's who of Modified racers was here tonight."
All six of the previous event winners competing Sunday – Gustin, Auringer, Dripps, Carter, Troy Cordes and Hogan – qualified for the feature through their heat or "B," so two track provisional were given to fill out the starting grid of 26.
Murty led the last 14 of 20 laps in a Stock Car feature slowed by a single early caution. Jeff Mueller was right behind while Modified regular Kyle Brown did double duty with a third-place finish.
After drawing the pole, Chapman ran second early on before regaining the lead and beating Tony Olson and Matt Petrezelka to the checkers in the Northern SportMod 18-lapper.
Irvine was scored first on each of the 16 Hobby Stock laps. Nathan Ballard ran no more than a couple car lengths behind at any point and third went to Bill Bonnett.
Feature Results
Modifieds – 1. Richie Gustin, Gilman; 2. Todd Shute, Des Moines; 3. Hunter Marriott, Brookfield, Mo.; 4. J.D. Auringer, Waterloo; 5. Corey Dripps, Reinbeck; 6. Cayden Carter, Oskaloosa; 7. Kyle Strickler, Mooresville, N.C.; 8. Kyle Brown, State Center; 9. Cody Laney, Torrance, Calif.; 10. Ethan Dotson, Bakersfield, Calif.; 11. Racer Hulin, Laurel; 12. Zach Less, Manchester; 13. R.C. Whitwell, Tucson, Ariz.; 14. Scott Hogan, Vinton; 15. Nick Roberts, Des Moines; 16. Tony Snyder, Readlyn; 17. Jake Bowman, Maquoketa; 18. Ryan Maitland, Waterloo; 19. Brandon Maitland, Waterloo; 20. Ronn Lauritzen, Jesup; 21. Jerry Dedrick, Vinton; 22. Joel Rust, Grundy Center; 23. Patrick Flannagan, Cedar Rapids; 24. Troy Cordes, Dunkerton; 25. Josh Gilman, Earlham; 26. Mike Jergens, Plover.
Stock Cars – 1. Damon Murty, Chelsea; 2. Jeff Mueller, Mt. Pleasant; 3. Kyle Brown, State Center; 4. Jared Daggett, Marshalltown; 5. Scooter Dulin, Cedar Rapids; 6. John Oliver, Danville; 7. Norman Chesmore, Rowley; 8. Scott Pippert, Elberon; 9. Curtis Roster, Vinton; 10. Shane Ebaugh, Evansdale; 11. Kevin Rose, Waterloo; 12. Mike Galli, Urbana; 13. Austin Evens, Independence; 14. Bob Ahrendsen, Cedar Rapids; 15. Buck Swanson, Waterloo; 16. Scott Siems, Shellsburg; 17. Lon Mercer, Urbana; 18. Justin Stander, Shellsburg; 19. Justin Lovig, Clemons.
Northern SportMods – 1. Ben Chapman, Clarence; 2. Tony Olson, Cedar Rapids; 3. Matt Petrzelka, Norway; 4. Danny Dvorak, Vinton; 5. Carter VanDenBerg, Oskaloosa; 6. Joey Schaefer, Waterloo; 7. Taylor Musselman, Urbandale; 8. Dakoda Sellers, Waverly; 9. Curt Hilmer, Dysart; 10. Kyle Olson, Cedar Rapids; 11. Ryan King, Montour; 12. Andy Edwards, Parkersburg; 13. Jim Buhlman, Cedar Falls; 14. Mitch Manternach, Earlville; 15. Jerry Hinton, Adel; 16. Ethan Braaksma, Newton; 17. Tony Dunker, Quincy, Ill; 18. Sean Wyett, Danville; 19. Erick Knutsen, Cedar Rapids; 20. Brandon Tharp, Center Point; 21. Kyle Bentley, Independence; 22. Kurt Hogan, Vinton; 23. Lucas Lundry, Maynard; 24. Cory Pestotnik, Boone.
Hobby Stocks – 1. Benji Irvine, Oelwein; 2. Nathan Ballard, Marengo; 3. Bill Bonnett, Knoxville; 4. Leah Wroten, Independence; 5. Justin Wacha, Vinton; 6. Daniel Wauters, Iowa City; 7. Matt Pohlman, Keystone; 8. Justin Hanson, Hawkeye; 9. Matt Brown, Dysart; 10. Adam Petrzelka, Norway; 11. David Simpson, Ankeny; 12. Brett Vanous, Quasqueton; 13. August Bach, Newton; 14. Jacob Floyd, Cedar Rapids; 15. Bryan Keeney, Nevada; 16. Randy Byerly, Tipton; 17. Brian Happel, Vinton; 18. Justin Ginther, Independence; 19. Chad Siems, Cedar Rapids; 20. Dustin Graham, Boone; 21. Kyle Dulin, Brandon.