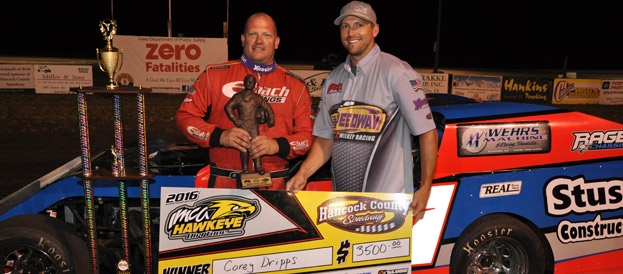 BRITT, Iowa (June 28) – After they saluted the men and women who served our country, fans at Hancock County Speedway saluted Corey Dripps.
Dripps won the Tuesday night Salute to Veterans Hawkeye Dirt Tour main event, earning $3,500 for his Xtreme Motor Sports IMCA Modified victory.
The pits were packed with 140 entries in five sanctioned divisions, including 44 Modifieds for the fifth of a dozen HDT events on the 2016 schedule. Dripps' victory was his tour career first and put him on the ballot for the Fast Shafts All-Star Invitational.
"It was a very gratifying win for us tonight," he said. I felt like we had been in position to win some of these races and I've let them get away. It's nice to be able to put it all together."
Coming off back-to-back wins in weekly shows at Buena Vista Raceway and Benton County Speedway, the eighth starting Dripps was already up to second when pole starter Ricky Thornton Jr. broke early and pulled into the infield.
He set sail from that point, using different lines and leading to the end of the 30-lapper.
"We had Ricky in our sights," Dripps said. "We'd gone back to a setup we hadn't done since about 1998 – it's an old-school thing – and the car responded very well."
Ryan Ruter, Jeremy Mills, Kelly Shryock and Mike Jergens completed the top five.
Chris Abelson brought the series point lead to Britt, pulled off late in the contest and was scored 21st.
Cayden Carter was the $2,000 IMCA Sunoco Stock Car winner while $1,500 checks went to Cody Nielsen and Jared Boumeester for their IMCA Sunoco Hobby Stock and Karl Chevrolet Northern SportMod victories, respectively. Jay DeVries took the $200 Mach-1 Sport Compact checkers.
Salute to Veterans was sponsored by Bayer Crop Science and Mike and Barb Schroeder, Lone Rock & L.G. Seeds.
Next up on the Hawkeye Dirt Tour schedule are three midweek events in as many nights: Tuesday, July 19 at the Iowa State Fairgrounds Speedway in Des Moines; Wednesday, July 20 at Southern Iowa Speedway in Oskaloosa; and Thursday, July 21 at Knoxville Raceway.
Feature results – 1. Corey Dripps, Reinbeck; 2. Ryan Ruter, Kanawha; 3. Jeremy Mills, Garner; 4. Kelly Shryock, Fertile; 5. Mike Jergens, Plover; 6. Jay Noteboom, Hinton; 7. Hunter Marriott, Brookfield, Mo.; 8. Cody Laney, Torrance, Calif.; 9. Tad Reutzel, Burt; 10. Jesse Hoeft, Forest City; 11. Kyle Brown, State Center; 12. Kyle Strickler, Mooresville, N.C.; 13. Josh Ruby, Lakota; 14. Joel Rust, Grundy Center; 15. Jeff James, Stanton; 16. Tim Ward, Harcourt; 17. Ethan Dotson, Bakersfield, Calif.; 18. Adam Larson, Ankeny; 19. Mark Elliott, Webster City; 20. Richie Gustin, Gilman; 21. Chris Abelson, Sioux City; 22. Troy Cordes, Dunkerton; 23. Ricky Thornton Jr., Harcourt; 24. Austin Wolf, Algona.
1st heat (top two) – 1. Noteboom; 2. Larson; 3. Reutzel; 4. Cordes; 5. Ben Kraus, Britt; 6. Nate Hughes, Indianola; 7. Mat Hollerich, Good Thunder, Minn.; 8. Todd Stinehart, Waseca, Minn.; 9. Jay Marks, Bakersfield, Calif.
2nd heat – 1. Ruter; 2. Shryock; 3. Hoeft; 4. Brown; 5. Todd VanEaton, Fontanelle; 6. Cody Knecht, Whittemore; 7. Clint Wendel, Mason City; 8. Troy Swearingen, Forest City; 9. Gustin.
3rd heat – 1. Wolf; 2. Dripps; 3. Marriott; 4. James; 5. Laney; 6. Stacey Mills, Webb; 7. Brandon Maitland, Waterloo; 8. Racer Hulin, Laurel; 9. Scott Olson, Blairsburg.
4th heat – 1. Thornton; 2. Abelson; 3. Ward; 4. Elliott; 5. Mike Mashl, DePere, Wis.; 6. Strickler; 7. Aaron Benson, Clear Lake; 8. Devon Havlik, Iowa Falls; 9. Bryce Carey, Nashua.
5th heat – 1. Jeremy Mills; 2. Jergens; 3. Ruby; 4. Rust; 5. Dotson; 6. Todd Shute, Des Moines; 7. Shane DeMey, Denison; 8. Dotson.
1st "B" feature (top four) – 1. Reutzel; 2. Ward; 3. Laney; 4. Strickler; 5. Wendel; 6. Rust; 7. Marks; 8. DeMey; 9. Hughes; 10. Hulin; 11. Carey; 12. Brown.
2nd "B" feature – 1. Hoeft; 2. Ruby; 3. Gustin; 4. James; 5. Shute; 6. Mashl; 7. Knecht; 8. Kraus; 9. Havlik; 10. Brandon Maitland; 11. Stinehart.
3rd "B" feature – 1. Marriott; 2. Elliott; 3. Dotson; 4. Cordes; 5. Ryan Maitland; 6. VanEaton; 7. Stacey Mills; 8. Swearingen; 9. Benson; 10. Hollerich; 11. Olson.