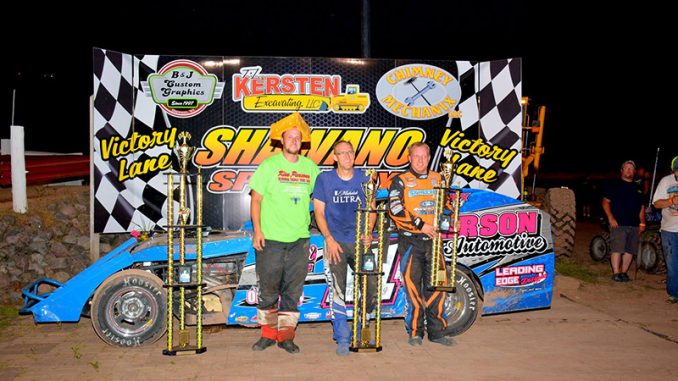 By Scott Owen
SHAWANO, Wis. (June 26) – Jeff Larson was the first car to hit the track for hot laps Saturday at Shawano Speedway and it paid dividends for the Illinois racer.
Larson won the third leg of the Xtreme Motor Sports IMCA Modified Cheesehead Triple Crown and left the track with $5,000, a huge trophy thanks to the Kim Parsons Memorial Trophy Tour and a spot on the ballot for the Fast Shafts All-Star Invitational.
Larson and Jerry Wilinski raced wheel-to-wheel following the initial green with Wilinski holding the slightest of leads.
Wilinski continued to lead as Larson ran right near the wall trying to gain an advantage.  What would be the final caution of the 30-lap feature flew after lap five. As the race went back to green, Larson again tiptoed along the wall and took the lead from Wilinski.
Larson then put on a clinic on how to race inches away from the wall as Wilinski battled Kelly Shryock for second and Konnor Wilinski, Jerry's son, battled with Jay Noteboom for fourth.
Shryock and Jerry Wilinski swapped second place three times over the course of laps 19-21. Through the late stages of the race, Larson continued to tour the track inches from the outside wall and extend his lead.
Noteboom caught Jerry Wilinski on lap 26 for third and battled past Shryock on lap 28 to move into second.
In the end, though, it was all Larson with Noteboom taking second, Shryock third, Jerry Wilinski fourth and R.C. Whitwell fifth. Dylan Smith finished sixth after starting 19th.
Travis Van Straten took the lead on the opening lap of the IMCA Sunoco Stock Car feature and led all 20 laps of the race for the win, his third straight in four outings during the Cheesehead Tri­ple Crown.
Wyatt Block had the lead when the 15th lap was scored and motored to the Karl Chevrolet North­ern SportMod checkers.
Feature results – 1. Jeff Larson; 2. Jay Noteboom; 3. Kelly Shryock; 4. Jerry Wilinski; 5. R.C. Whitwell; 6. Dylan Smith; 7. Marcus Yarie; 8. Mike Mullen; 9. Konnor Wilinski; 10. Kyle Strickler; 11. Jason Grimes; 12. Justin O'Brien; 13. Joel Rust; 14. Mitch Stankowski; 15. Shane DeMey; 16. Ja­son Zdroik; 17. Jerry Muenster; 18. Chris Engels; 19. Johnny Whitman; 20. Jon Snyder; 21. Jeremy Christians; 22. Brad Lautenbach; 23. Benji LaCrosse; 24. R.M. VanPay.