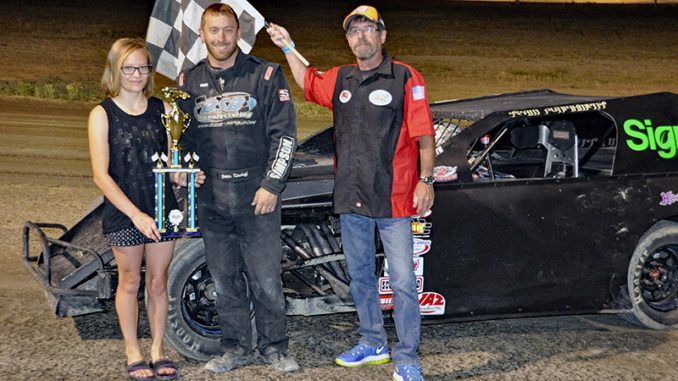 By Dru Brown
BILLINGS, Mont. (June 25) – Eddie Kirchoff's mastery of lapped traffic helped make him the open­ing night winner in the Interstate Challenge Series.
Kirchoff outran Tripp Gaylord and Kenny Baumann Saturday at Billings Motorsports Park, earning $1,000 for his Xtreme Motor Sports IMCA Modified victory.
The evening's 25-lapper featured some of the best Modified drivers in the Larry Shaw Racing Western Region and right as the green flag came out, the race for the lead was three wide.
Kirchoff took the point on the low line.  Baumann wanted none of that, however, fought back on the high line and took the lead.
The game of leapfrog had begun as Kirchoff stayed steady on the bottom, looked low and stole the lead back. Gaylord, meanwhile, was running third and catching up to the two frontrunners.
Kirchoff began building a sizeable lead. Gaylord and Baumann swapped the second spot back and forth, but Gaylord proved to be too strong and took the runner up position.
By this time, Kirchoff was in heavy lapped traffic and trying to navigate through a wad of cars. Gaylord worked his way within striking distance of Kirchoff, and pushing hard for the lead.
Gaylord pushed just a little too hard and had an off-track excursion. He maintained the second position, but had no time to catch the leader.
Kirchoff was already on the ballot for the Fast Shafts All-Star Invitational.