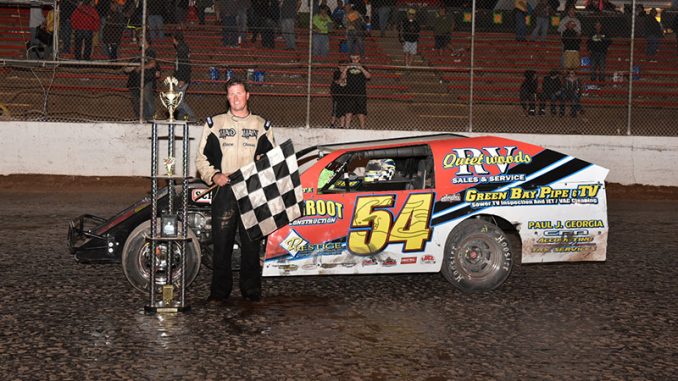 By Greg Aregoni
FRANCIS CREEK, Wis. (June 23) – Benji LaCrosse led every lap of the 50 lap Xtreme Motor Sports IMCA Modified Clash at the Creek main event Thursday at 141 Speedway.
LaCrosse held off heavy pressure from two-time defending race winner Mike Mullen to take home the $10,000 payday in the opening installment of the Cheesehead Triple Crown.
LaCrosse earned the pole position for the feature by virtue of passing points during Wednesday qualifying. The 2013 Clash winner showed he was going to be a threat as he pulled away from the field immediately.
Mullen settled into position in second and Kyle Brown into third, with a whole crew running right behind.
Several cautions kept the field together like a close knit family. On each restart, LaCrosse pulled Mullen around the speedway and eventually edged away from the field. Shawn Kilgore and Hunter Marriott battled for third during the middle portion of the race. Kilgore ran the top with Marriott down low.
With 15 circuits remaining, LaCrosse entered lapped traffic and Mullen was able to slowly inch closer to the leader. LaCrosse had to slow down for lapped traffic running the same line, the break Mullen needed to close the gap.
With two laps remaining, Mullen was able to close in on the back bumper of LaCrosse. Mullen tried multiple lanes to try to get past LaCrosse but was never able to make it happen.
LaCrosse kept Mullen on his back bumper as they crossed the finish line. Mullen finished second with Marriott third. Brian Irvine made a late charge to finish fourth after starting 13th and Jeremy Jacobs finished fifth.
LaCrosse was already on the Fast Shafts All-Star Invitational ballot. Sixty-seven Modified drivers from 10 states vied at Francis Creek.
Five hundred dollar feature winners were Travis Van Straten in the IMCA Sunoco Stock Cars and Travis Arenz in the Karl Chevrolet Northern SportMods.
The Cheesehead Triple Crown is at Oshkosh SpeedZone Raceway for the Friday night Battle at the Zone and at Shawano Speedway for the Fury at the Fairgrounds on Saturday.
IMCA Modified main events both nights pay $5,000 to win and are All-Star ballot qualifiers. Both race programs will be broadcast by IMCA.TV.
Feature results – 1. Benji LaCrosse, Green Bay; 2. Mike Mullen, Seymour; 3. Hunter Marriott, Brookfield, Mo.; 4. Brian Irvine, Oelwein, Iowa; 5. Jeremy Jacobs, Luxemburg; 6. Marcus Yarie, Wausau; 7. Shawn Kilgore, New Franken; 8. R.M. VanPay, Denmark; 9. Kelly Shryock, Fertile, Iowa; 10. Kyle Brown, State Center, Iowa; 11. Josh Long, Suamico; 12. Brad Lautenbach, New Franken; 13. Sean Jerovetz, Suamico; 14. Tyler Hackett, Algoma; 15. Troy Jerovetz, Green Bay; 16. Brad Theys, Kewaunee; 17. Jay Matthias, DePere; 18. Jason Wolla, Ray, N.D.; 19. Todd Dart, Algoma, Wis.; 20. Greg Gretz, Kewaunee; 21. Kyle Strickler, Mooresville, N.C.; 22. T.J. Smith, Menasha; 23. Joel Rust, Grundy Center, Iowa; 24. Jordan Grabouski, Beatrice, Neb.