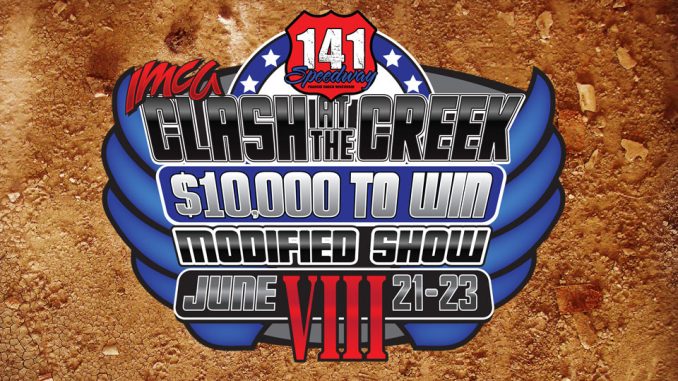 By Greg Aregoni
FRANCIS CREEK, Wis. (June 22) – Sixty-seven of the best Xtreme Motor Sports IMCA Modified drivers from 10 states converged on 141 Speedway for opening night of qualifying for the $10,000 to win Clash at the Creek main event.
When passing points were figured after 16 heat races, 10 of those drivers … Benji LaCrosse, Mike Mullen, Kyle Brown, Jay Matthias, Hunter Marriott, Shawn Kilgore, Jordan Grabouski, Jer­emy Jacobs, Todd Dart and Marcus Yarie … were locked into Thursday's starting grid at Francis Creek.
The remainder of the field will be set by the "B" features and a Final Four race. Racing starts at 6 p.m. tonight.
Brandon Czarapata and Jeff Schmuhl raced to $500 paydays on Wednesday, in IMCA Sunoco Stock Car and Karl Chevrolet Northern SportMod features, respectively.
Kyle Frederick started on the pole of the Stock Car feature. He was looking for his fourth win of the season but the rest of the field had other ideas. Frederick took to the lead immediately and set a quick pace.
Czarapata worked from his seventh starting position into the second spot and tracked down the leader. Czarapata grabbed the lead but a caution put him back to second.  Frederick tried to stay down low on the restart but Czarapata was not to be denied on this night.
Czarapata finally got the lead for good on lap 11. He had plenty of company in the next few cir­cuits that saw a couple of cautions. Travis Van Straten and John Heinz both had their chances with Czarapata but neither could come away with the lead. Czarapata put a stranglehold on the field late in picking up the win.  Heinz bested Van Straten for the runner-up finish.  Shawn Wagner took fourth with Frederick fifth.
Jeff Steenbergen set the pace on the opening lap of the SportMod main. What proved to be the race-winning pass happened on lap two when Schmuhl stole the show up top.
Schmuhl checked out from the field and was never to be seen again. Schmuhl worked into lapped traffic starting on lap 11. Cody Schroeder drove into the second spot late in the race but ran out of time for any chance to catch the leader.
Schmuhl stayed as cool as ice driving around the rim of the 1/3-mile oval on his way to the check­ered flag.  Schroeder finished second with Steenbergen right behind. Kevin Bethke finished fourth with Hunter Parson taking home fifth.
Both the Stock Cars and Northern SportMods will run complete shows again this evening with $500 awarded to the winners.