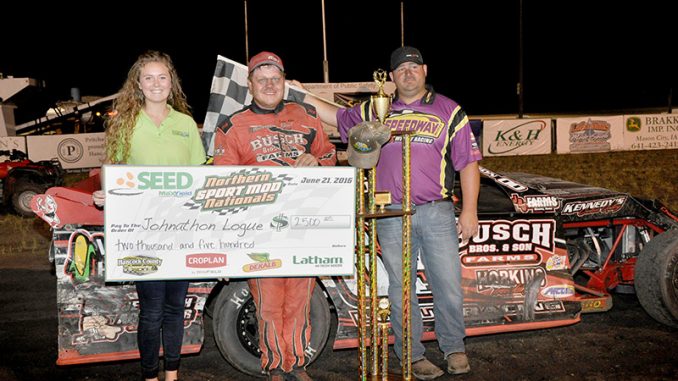 BRITT, Iowa (June 22) – A race he didn't win last August helped put Johnathon Logue in victory lane at Hancock County Speedway.
His runner-up finish during the Night of 10,000 Stars show at Britt was on Logue's mind at the start of Tuesday's MaxYield Seed SportMod Nationals.
Remembering how George Nordman used the lower groove to get the best of him before at Britt, Logue followed the same line from 13th starting to the $2,500 checkers.
The victory was his fourth of the season and, surprisingly, his Karl Chevrolet Northern SportMod career first away from his hometown Boone Speedway.
"My crew has put a lot of sweat and blood and work into this car," Logue said. "This win got the weight off my shoulders."
He passed Jared Boumeester for the lead following a caution with five circuits left in the 30-lapper.
"I'm not sure why no one else tried to run the bottom. Once I got to the 81 (Boumeester) I showed him my line and the yellow came out. I didn't know if I'd get another chance," said Logue. "But to be able to race with him for that amount of time and never touch meant a lot to me as a driver."
Austin Luellen raced side-by-side with Carter VanDenBerg much of the way before taking over second.
Boumeester, Sam Wieben and VanDenBerg completed the top five finishers. Forty-four cars were entered.
Jake Simpson ran second to Logue in their "B" feature and finished sixth in the main event. Brandon Ostwald advanced 14 positions to finish eighth and earn hard charger honors along with an extra $100.
Logue had finished 15th at last year's SportMod Nationals despite getting banged up in both his heat and "B" qualifier. He'd almost won for the first time away from Boone this spring, leading all but the last lap of the Frostbuster at Benton County Speedway.
"We keep track (in the hauler) of how I've finished at every race," said Logue, the 2014 IMCA Speedway Motors Super Nationals fueled by Casey's champion. "For this one we'll put '13th to 1st, SportMod Nationals."
Feature results – 1. Johnathon Logue, Boone; 2. Austin Luellen, Minburn; 3. Jared Boumeester, Waseca, Minn.; 4. Sam Wieben, Dysart; 5. Carter VanDenBerg, Oskaloosa; 6. Jake Simpson, Algona; 7. Randy Roberts, Boone; 8. Brandon Ostwald, Algona; 9. Shane Swanson, Forest City; 10. Ben Schultze, Algona; 11. Brandon Williams, Des Moines; 12. Doug Cook, Algona; 13. Jerid Ratzke, Williams; 14. Nate Chodur, Lake Mills; 15. Jake Sachau, Denison; 16. Cory Rose, Boone; 17. Brandon Spanjer, Crete, Neb.; 18. George Nordman, Mason City; 19. Jake McBirnie, Boone; 20. Joey Schaefer, Waterloo; 21. Nate Whitehurst, Mason City; 22. Colby Fett, Algona; 23. Nick Meyer, Whittemore; 24. Dan Drury, Eldora.
Heat winners were VanDenBerg, Nordman, Boumeester, Sachau, Luellen and Fett. Nordman won the dash. "B" feature winners were Logue and Swanson.