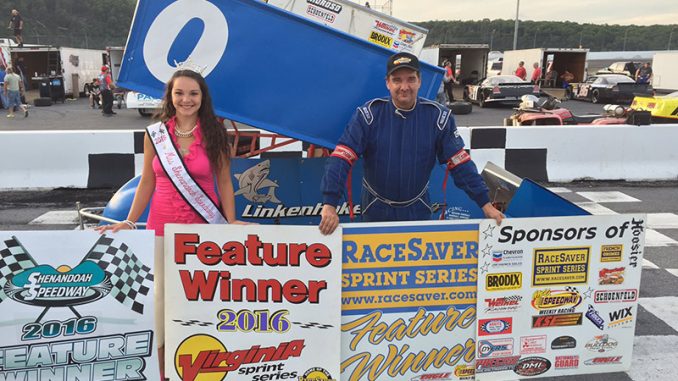 By Jim Haines
SHENANDOAH, Va. (June 18) – Shenandoah Speedway has seen many great last-lap passes for the win as the wide track lends itself to multi-groove racing.
Anthony Linkenhoker put his name on the list of drivers to win this same fashion in Saturday's Virginia Sprint Series main event.
Tony Harris and Bill Rice paced the field to green with Rice up high and leading the field with Har­ris running low. On lap 10, Harris made his move and was in the top spot as Rice with beginning to fade.
Linkenhoker moved to second at halfway and the fight was really on. Harris was working his tires hard to stay up front as Linkenhoker kept sticking a nose in there three or four times as he tried high and low to get by, and with the white flag waving they were nose to tail again.
Going into turn three Linkenhoker went high and Harris went low for a charge to the flag and they went across side by side with Linkenhoker charging by for the five-foot win, his series third of the season.
Feature results – 1. Anthony Linkenhoker; 2.Tony Harris; 3. Glenn Worrell; 4. Mike Leraas; 5. Bill Rice; 6. J.D. Coats; 7. French Grimes; 8. Ron Moyers; 9. Josh Perreault; 10. Jerald Harris.