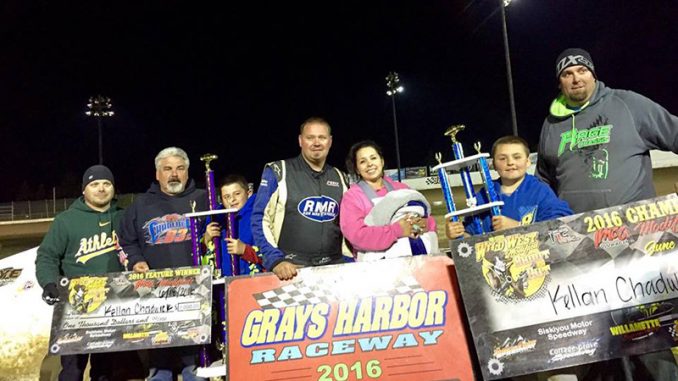 By Ben Deatherage
ELMA, Washington (June 18) – Kellen Chadwick clinched thechampionship of the Wild West Modi­fied Shoot Out with his fourth feature win of the six-race Xtreme Motor Sports IMCA Modified tour Saturday at Grays Harbor Raceway.
Forty cars from Oregon, Washington, California, Montana, North Dakota, and Colorado made the journey as well as the Canadian province of British Columbia.
Danny Lauer took the lead from Collen Winebarger on lap two.  From there he would be the car to beat as he was in search of his first career Wild West Shoot Out victory. Unfortunately, Lauer broke on lap 25.
The driver everyone had been chasing all week long inherited the top spot. Kellen Chadwick blazed the trail the remainder of the distance and survive to pull off an incredible fourth win in the tour's six main event starts.
Tom Sweatman was second over 'B' qualifier John Campos.  The rest of the top five was made up of Jeremy Martin and Canadian Graham Cook.
Feature results – 1. Kellen Chadwick; 2. Tom Sweatman; 3. John Campos; 4. Jeremy Martin; 5. Graham Cook; 6. Kyler Moore; 7. Steven Sturdevant; 8. Ethan Landers; 9. Jerry Schram; 10. Brian Harding; 11. Mike Knox Jr.; 12. Rob Ireland; 13. Jeremy Shank; 14. Danny Lauer; 15. Grey Ferrando; 16. Zack Simpson; 17. Scott Miller; 18. Collen Winebarger; 19. Kevin Smith; 20. Brad Martin; 21. Kristi Somers; 22. Lane Zerbin; 23. Chris Beaulieu; 24. Brian Izzi.