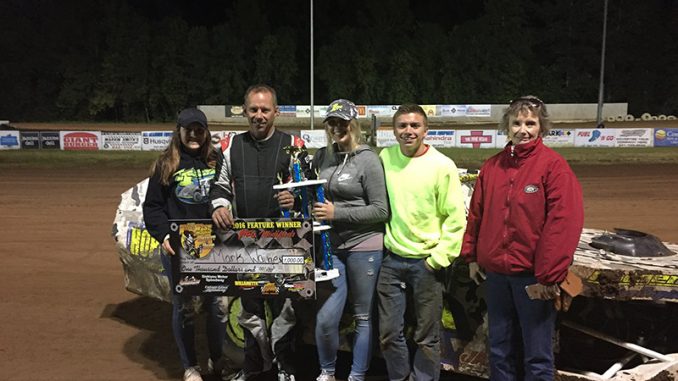 By Ben Deatherage
COTTAGE GROVE, Ore. (June 14) – Despite drama on the last lap, Mark Wauge emerged from Tuesday's Wild West Modified Shoot Out feature at Cottage Grove Speedway with the $1,000 feature win.
While the second half of the Xtreme Motor Sports IMCA Modified main event ran practically cau­tion free, Wauge had a close call on the final circuit after another car came to a halt in turn four.
Wauge, and the rest of the field, managed to miss the stopped car and crossed the line to win for the second time in his Shoot Out career.
Alex Stanford was scored second, followed by Bricen James, Danny Lauer and Randy Brown.
Wauge had started from the pole position and built a sizable lead early on.  Following a lap seven re­start, he paced the pack for a long green flag run. As Wauge started to catch the tail end of the field, he was briefly bottled up in lapped traffic before the yellow came out on lap 18.
He remained in charge to the finish.
A total of 47 Modifieds, representing seven states and British Columbia were entered in the fourth in­stallment of the Shoot Out.
Feature results – 1. Mark Wauge; 2. Alex Stanford; 3. Bricen James; 4. Danny Lauer; 5. Randy Brown; 6. John Campos; 7. Kinzer Cox; 8. Eric Ashley; 9. Curtis Towns; 10. Monte Bischoff; 11. Matt Jenner; 12. B.J. Wild; 13. Collen Winebarger; 14. Mark Carrell; 15. Kellen Chadwick; 16. Zach Olson; 17. Jake Mayden; 18. Lawrence O'Conner; 19. Brian Poppa; 20. Kevin Roberts; 21. Travis Peery; 22. Ryan Gaylord; 23. 1Lance Mari; 24. Don Jenner.