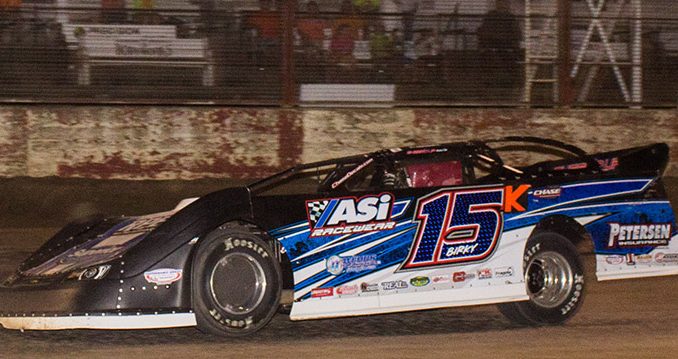 WEST LIBERTY, Iowa (June 14) ­– Another West Liberty Deery Brothers Summer Series show, another IMCA Late Model tour win for Justin Kay.
Kay led the last 22 of 40 laps in winning Tuesday's main event at West Liberty Raceway. The $2,000 victory was his sixth in nine events there since July of 2013 – he finished fourth, second and third in the other three races – and third in as many outings in the car Brian Birkhofer had been driving.
"We'd won weekly shows at Davenport Friday and West Liberty on Saturday. We didn't make any changes from the weekly show here," Kay said following Deery career win number 17. "We always enjoy racing at West Liberty."
Denny Eckrich had won the 30th annual tour opener back in April and led the first 17 circuits Tuesday night.
Lapped traffic forced him to change lanes however and Kay was quick to pounce, taking the lead on the lower line coming out of turn two.
The only caution of the race waved on lap 20. Kay cruised to the win from that point, ahead of Scott Fitzpatrick, Eckrich, Tyler Droste and Kevin Kile.
Kay did double duty at West Liberty and broke while leading the Hawkeye Dirt Tour main event for Xtreme Motor Sports IMCA Modifieds.
"Winning both the Deery and the Dirt Tour the same night would be awesome. I won both the Late Model and Modified features Friday at Davenport," he said. "I came close last year at Tipton when I won the Deery and finished second in the Dirt Tour. It would be cool because there are so many good cars in both series."
Winner of the Sunoco Race Fuels feature qualifier drawing was Matt Ryan.
Feature results – 1. Justin Kay, Wheatland; 2. Scott Fitzpatrick, Wheatland; 3. Denny Eckrich, Tiffin; 4. Tyler Droste, Waterloo; 5. Kevin Kile, West Liberty; 6. Jeremiah Hurst, Dubuque; 7. Andy Eckrich, Oxford; 8. Tyler Bruening, Decorah; 9. Joe Zrostlik, Long Grove; 10. Kyle Hinrichs, Swisher; 11. Chad Holladay, Muscatine; 12. Ron Boyse, Kalona; 13. Cayden Carter, Oskaloosa; 14. Ryan Dolan, Lisbon; 15. Darrel DeFrance, Marshalltown; 16. John Emerson, Waterloo; 17. Jeff Aikey, Cedar Falls; 18. Rob Moss, Iowa City; 19. Joel Callahan, Dubuque; 20. Nick Marolf, Wilton; 21. Andy Nezworski, Buffalo; 22. Jay Chenoweth, Wapello; 23. Matt Ryan, Davenport; 24. Ray Guss Jr., Milan, Ill.
1st heat (top three) – 1. Hurst; 2. Kile; 3. Marolf; 4. Hinrichs; 5. Carter; 6. Moss; 7. Richie Gustin, Gilman.
2nd heat – 1. Denny Eckrich; 2. DeFrance; 3. Ryan; 4. Holladay; 5. Bruening; 6. Chenoweth; 7. Dolan.
3rd heat – 1. Callahan; 2. Boyse; 3. Andy Eckrich; 4. Aikey; 5. Nezworski; 6. Eric Pollard, Peosta; 7. Guss.
4th heat – 1. Kay; 2. Droste; 3. Fitzpatrick; 4. Zrostlik; 5. Jonathan Brauns, Muscatine; 6. Emerson.
"B" feature (top eight) – 1. Holladay; 2. Hinrichs; 3. Carter; 4. Moss; 5. Aikey; 6. Bruening; 7. Zrostlik; 8. Guss; 9. Nezworski; 10. Dolan; 11. Emerson; 12. Pollard; 13. Chenoweth; 14. Brauns; 15. Gustin.