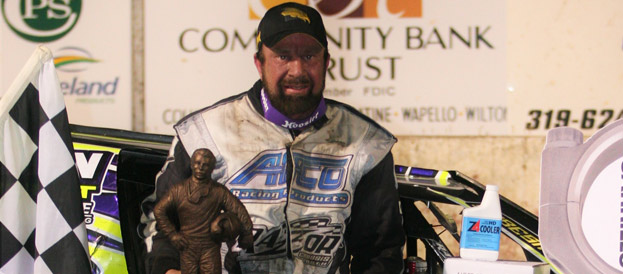 WEST LIBERTY, Iowa (June 14) – Chris Abelson had never been to West Liberty Raceway be­fore Tuesday evening's Hawkeye Dirt Tour event.
A thousand dollars richer, the 2015 national champion and new Xtreme Motor Sports IMCA Modi­fied series point leader was probably already looking forward to his next 5-1/2 hour tow there from his home in Sioux City.
"I'd never seen the track before tonight. I've never been to West Liberty before in my life," said Abelson, who took over at the front after leader Justin Kay broke just before midway in the 30-lapper. "It was a long trip for us but after chasing the national deal last year, we want to focus more on special events and races like the Hawkeye Dirt Tour."
"We're going to chase series points this season and hopefully come away with the champion­ship," he continued.
Kay, winner of the Deery Brothers Summer Series feature for Late Models, led through lap 12 before pulling off with motor issues.
"I shut it down," he said, "and tried not to wreck anything worse than it already was."
Abelson lined up outside Jacob Murray on the ensuing restart. Once in front, he took to the top side of the track and ran away from the rest of the field, winning by half a straightaway over Mur­ray.
Kelly Shryock advanced 16 places from his starting spot to third. Kurt Kile was fourth and Chris Zogg was fifth. Joel Rust brought the point lead to town and finished eighth; Algona tour winner Brian Irvine was unable to make the call and did not start the feature.
Five cautions slowed the first 14 circuits but the rest of the race ran green.
Despite threatening weather all around the area, track and IMCA officials made every effort to get the complete race program in.
Abelson's win was his HDT career third.
Feature results – 1. Chris Abelson, Sioux City; 2. Jacob Murray, Hartford; 3. Kelly Shryock, Fer­tile; 4. Kurt Kile, Nichols; 5. Chris Zogg, New Liberty; 6. Hunter Marriott, Brookfield, Mo.; 7. Colt Mather, Webster; 8. Joel Rust, Grundy Center; 9. Derek Walker, Riverside; 10. Mark Elliott, Web­ster City; 11. Dennis LaVeine, West Burlington; 12. David Brown, Kellogg; 13. Matt Stewart, Colum­bus City; 14. Kyle Brown, State Center; 15. Matthew Fulton, Muscatine; 16. Justin Kay, Wheatland; 17. Richie Gustin, Gilman; 18. Austin Moyer, Dubuque; 19. Matt Bodman, Muscatine; 20. Corey Dripps, Reinbeck; 21. Levi Smith, Donnellson; 22. Dakota Hayden, Wilton.
1st heat – 1. Kay; 2. Moyer; 3. Brian Irvine, Oelwein; 4. Mather; 5. Zogg; 6. Bodman; 7. Stewart; 8. Hayden.
2nd heat – 1. Elliott; 2. Walker; 3. Kyle Brown; 4. Dripps; 5. Marriott; 6. Shryock; 7. LaVeine; 8. Fulton.
3rd heat – 1. Rust; 2. Abelson; 3. Murray; 4. Gustin; 5. Kile; 6. David Brown; 7. Smith.