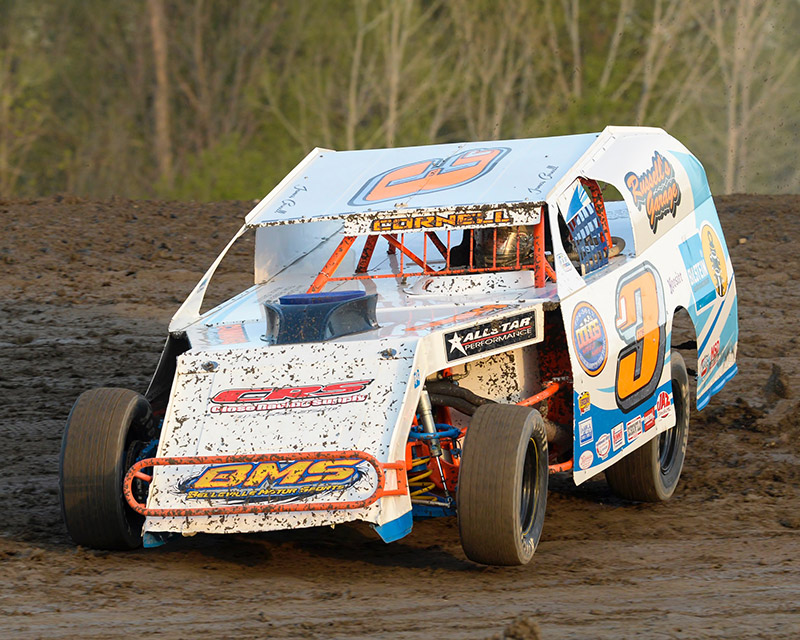 DUNDEE, N.Y. (May 20) – James Cornell took the lead just before midway and cruised to the checkers in winning Friday's Atomicwraps.com Empire State Series feature at Outlaw Speedway.
The Xtreme Motor Sports IMCA Modified tour victory paid $500 and was the career fourth for Cornell, the 2014 series champion.
The 25-lap feature event saw a caution fly on the initial start of the race but that was the only yellow of the night. Cornell was dominant late in the race, extending his lead to more than a straightaway in lapped traffic.
Matt Cole, winner of the tour opener at Five Mile Point Speedway, charged to second late in the event in a great battle with Eddie Sites and Brad Sites who finished third and fourth, respectively.
Jake Maynard made his first Outlaw Speedway start of the season and brought his number 69 home with a top five finish.
Feature results – 1. James Cornell; 2. Matt Cole; 3. Eddie Sites; 4. Brad Sites; 5. Jake Maynard; 6. Tyler Stoddard; 7. Shawn Bruce; 8. Rodney Morgan; 9. Phil Yaw; 10. Brandon Smith; 11. Mike Stoddard; 12. Ray McClure; 13. Billy Ward; 14. Scott Sebring; 15. Sparky Hills; 16. Jeff Austin; 17. Beau Ballard; 18. Will Ward; 19. Gary Roberts; 20. Keith Lamphere; 21. Rich Karlnoski; 22. Tony Harris; 23. Brad Smith; 24. Bob Maynard
.
Heat race winners were Eddie Sites, Cornell and Will Ward.