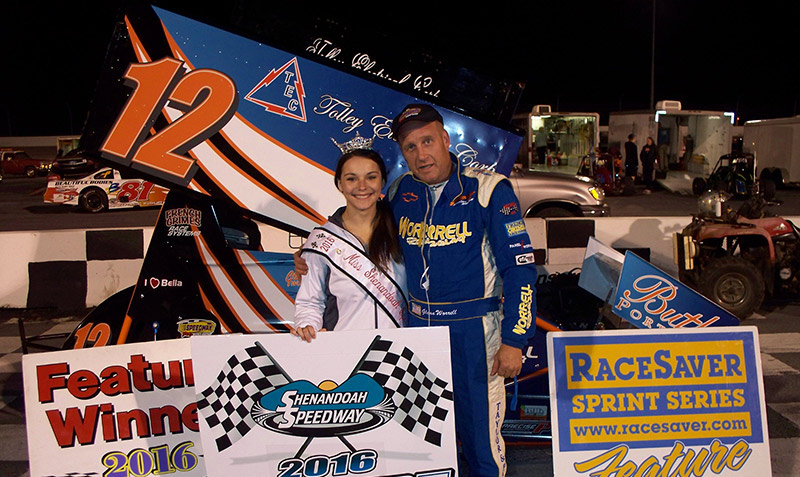 By Jim Haines
SHENANDOAH, Va. (May 14) – A rain delay on April 30 after the trophy dash meant a changeup format was put into play when Virginia Sprint Series drivers returned to Shenandoah Speedway Saturday night for a pair of twin 20-lap features.
Anthony Linkenhoker became the first repeat winner for IMCA EMI RaceSaver Sprint Cars this season in the rescheduled race, Glenn Worrell earned his first pavement win in the night­cap and Bill Rice went home with two runner-up finishes.
The first feature had Worrell and Tony Harris on the front row with Harris out first. Rice was strong up high right behind them and got Worrell first and then Harris on lap six, but Linkenhoker was coming on strong as well.
Linkenhoker was in second by lap 10 and in the lead for good two laps later. Worrell was pressing Rice as laps ran out.
Feature number two had Worrell and Harris on the point as the green waved with Worrell out front on the bottom and Harris mid-track. The two traded the lead lap after lap with Worrell gaining the upper hand on lap eight.
Rice moved to second but was no match as Worrell remained smooth and fast out front.
Next week it's back to Eastside Speedway in Waynesboro on Saturday, May 21 for another dirt track show.
Results
Rescheduled feature – 1. Anthony Linkenhoker; 2. Bill Rice; 3. Glenn Worrell; 4. French Grimes; 5. Josh Perreault; 6. Jerald Harris; 7. Ron Moyers; 8. Tony Harris.
Scheduled feature – 1. Worrell; 2. Rice; 3. Linkenhoker; 4. Jerald Harris; 5. Tony Harris; 6. French Grimes; 7. Perreault; 8. Moyers.