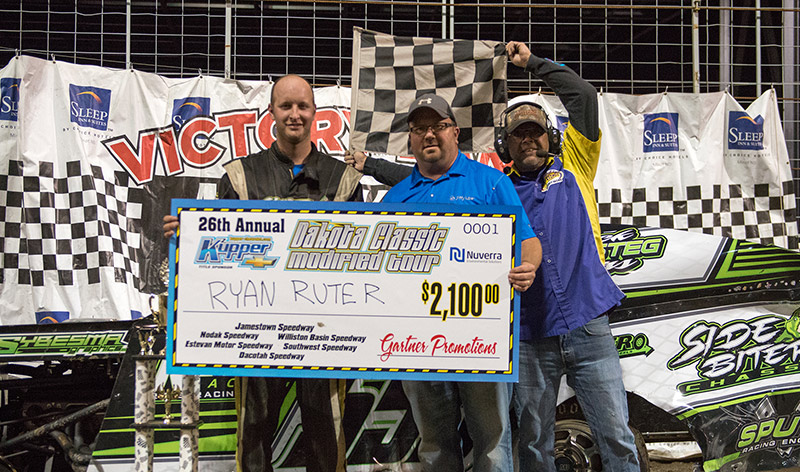 MINOT, N.D. (July 5) – Ryan Ruter was the Xtreme Motor Sports IMCA Modified winner on a record-setting opening night for the Kupper Chevrolet Dakota Classic Tour at Nodak Speedway.
The $2,100 checkers flew for Ruter as a series record 93 Modifieds were checked in for the Sunday show. That eclipsed by one the mark set last year at Dacotah Speedway.
Ten states and Canada were represented in the main event. Jordan Grabouski, Hunter Marriott, Ricky Thornton Jr. and Robert Hellebust completed the top five.
"We drew well but this was a win we had to earn," said Ruter, who started the 30-lapper from outside row one. "The track was good and we had a good race with Hunter for a majority of the night."
Cautions throughout the contest kept lapped traffic from becoming a factor. The last yellow set up a green, white, checkered finish.
"Jordan came in and challenged a couple times but we were able to hold him off there at the end," Ruter said. "Everything was good."
Grabouski and Thorton both won "B" features and advanced 12 and nine places from their original starting spots, respectively.
Ruter was already on the ballot for the 2015 Fast Shafts All-Star Invitational. He's also no stranger to the Dakota Tour victory lane, having won at Nodak two years ago as well as the 2014 feature at Southwest Speedway.
First-time series competitor Brandon Czarapata was the $800 IMCA Sunoco Stock Car feature winner. That division also drew a record 42 entries, besting the previous mark of 36 established last July at Estevan.
2013 tour champion Elijah Zevenbergen was a close second and defending champ Dalton Flory motored home in third.
Round two of the six-night tour is Monday, July 6 at Estevan, Sask., Motor Speedway.
Feature Results
Modifieds – 1. Ryan Ruter, Kanawha, Iowa; 2. Jordan Grabouski, Beatrice, Neb.; 3. Hunter Marriott, Brookfield, Mo.; 4. Ricky Thornton Jr., Chandler, Ariz.; 5. Robert Hellebust, Minot; 6. Shawn Anderson, Minot; 7. Lucas Schott, Chatfield, Minn.; 8. Ed Turnbull, Estevan, Sask.; 9. Kelly Shryock, Fertile, Iowa; 10. Travis Hagen, Williston; 11. Aaron Turnbull, Estevan, Sask.; 12. Hank Berry, Sidney, Mont.; 13. Marlyn Seidler, Underwood; 14. Mike Hansen, Dickinson; 15. Brian Mullen, Seymour, Wis.; 16. Jason Wolla, Ray; 17. Justin O'Brien, West Union, Iowa; 18. Curt Lund, Redwood Falls, Minn.; 19. Lance Mari, El Centro, Calif.; 20. Jeff Taylor, Cave City, Ark.; 21. Spencer Wilson, Minot; 22. Mike Hagen, Williston; 23. Jason Grimes, Jamestown; 24. Shawn Strand, Mandan; 25. Mike Jergens, Plover, Iowa.
Heat winners were Hagen, Hellebust, Ruter, Hansen, Grimes, Aaron Turnbull, Berry, Schott, Anderson, Seidler, Jergens and Marriott.
1st "B" feature (top two) – 1. Thornton; 2. Hagen. 2nd "B" feature – 1. Grabouski; 2. Shryock. 3rd "B" feature – 1. Mari; 2. Mullen. 4th "B" feature – 1. Taylor; 2. Wolla. 5th "B" feature – 1. Lund; 2. O'Brien. 6th "B" feature – 1. Wilson; 2. Strand.
Stock Cars – 1. Brandon Czarapata, Pulaski, Wis.; 2. Elijah Zevenbergen, Ocheyedan, Iowa; 3. Dalton Flory, Williston; 4. Michael Vennes, Minot; 5. Chris Ellis, Minot; 6. Gary Goudy Jr., Stoughton, Sask.; 7. Greg Wichman, Bonduel, Wis.; 8. Jeff Ellis, Minot; 9. Andrew Altenburg, Truman, Minn.; 10. Billy Preston, Burlington; 11. Kody Scholpp, Estevan, Sask.; 12. Blaine Durward, Trenton; 13. Joren Boyce, Minot; 14. Kevin Mattox, Ray; 15. Matt Speckman, Sleepy Eye, Minn.; 16. Cody Nelson, Kenmare; 17. Kyler Jeffrey, Williston; 18. Nathan Burke, Minot; 19. Scott Yale, Minot; 20. Jeremy Swanson, Westby, Mont.; 21. Bill Jones, Williston; 22. Austin Daae, Estevan, Sask.; 23. Dirk Miller, Minot.
Heat winners were Zevenbergen, Vennes, Nelson, Czarapata, Burke and Flory. "B" winners were Joe Flory, Williston, Durward and Ellis.