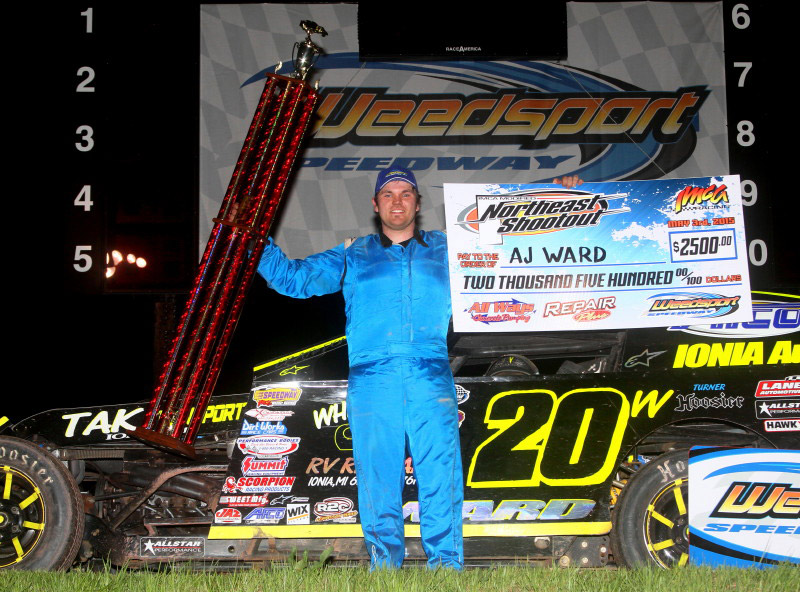 By Jay Fish
WEEDSPORT, N.Y. (May 3) – Nine and a half hours, 33 competitors and 35 grueling laps were what it took for Ionia, Mich.'s A.J. Ward to capture $2,500 and some impressive hardware in Weedsport Speedway's inaugural IMCA Modified Northeast Shootout.
"I didn't come 9-1/2 hours for nothing," a triumphant Ward declared, celebratory rifle in hand, a gift from Weedsport Speedway management for the Empire State Series event winner.
"Stuff happened so fast, they bobbled, I shot the gap and next thing I know, I had the lead," Ward recounted of his move for the lead with just six laps to go.
Dundee, N.Y.'s Rich Karlnoski had led the previous 29 circuits when disaster struck. Karlnoski's luck and suspension all broke into pieces and he'd have to settle for a 14th place finish.
Runner-up was series point leader Eddie Sites. Defending tour champion James Cornell, Glen Erwin and Brad Sites completed the top five.
Ward made the long trip east after winning the Friday feature for IMCA Xtreme Motor Sports Modi­fieds at Tri-City Motor Speedway and running fifth Saturday at Crystal Motor Speedway.
The Sunday checkers were his fourth of the season. Ward won the Michigan state championship last season and was already on the ballot for the upcoming Fast Shafts All-Star Invitational.
The inaugural Northeast Shootout was sponsored by Ken Sroka's All Ways Concrete Pumping and Repair Plus, both of Auburn.
Feature results – 1. A.J. Ward; 2. Eddie Sites; 3. James Cornell; 4. Glen Erwin; 5. Brad Sites; 6. Chris Fleming; 7. Will Ward; 8. Matt Cole; 9. Kurt Decker; 10. Rich Keller; 11. K.C. Cole; 12. Tyler Stoddard; 13. Ray McClure; 14. Rich Karlnoski; 15. Keith Lamphere; 16. Dan Searls; 17. Billy Ward; 18. Mike Stoddard; 19. Brad Smith; 20. Scott Overbaugh; 21. Gary Roberts; 22. Jeff Cardinale; 23. Craig Ward; 24. Jason Benjamin; 25. Jared Spalding; 26. Todd Stone.