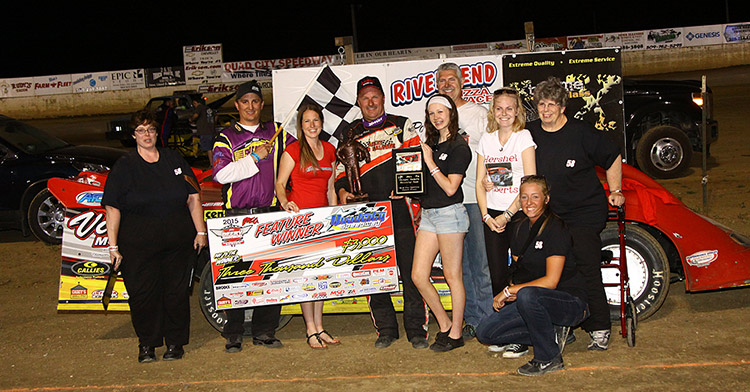 EAST MOLINE, Ill. (May 3) – The driver with the most feature wins in 28-plus seasons of Deery Brothers Summer Series history now has a trophy from the Hershel Roberts Memorial to add to his collection.
Jeff Aikey slipped past defending IMCA Late Model race winner and tour champion Justin Kay on the 14th of 58 laps Sunday at Quad City Speedway. He led the rest of the way in collecting his 64th ca­reer Deery victory and a $3,000 payday at the fifth annual event
Kay set the fast pace for the first 13th circuits, then chased Aikey in heavy lapped traffic before finishing on his back bumper.
Hard charger Matt Ryan raced from 13th starting to third. Ray Guss Jr., who'd driven for Roberts and won the 2011, 2012 and 2013 memorials, was fourth and point leader Andy Nezworski com­pleted the top five.
The main event was interrupted by caution just twice, when Brunson Behning broke on the origi­nal start and for debris on lap 35.
Kay had started second while Aikey moved into contention from inside row three. Frontrunners were in lapped traffic by the eighth circuit; Aikey took advantage on lap 14, using the lower line to drive past both a lapped car and Kay.
A seven-time Deery champion, Aikey had won just one previous series event at East Moline, in 1999. He's the fourth different winner in as many feature events held so far this season.
Darrel DeFrance was the $250 Sunoco Race Fuels feature qualifier drawing winner. Fifty-eight was the number of the car Roberts, a Deery Series competitor and Quad City Speedway Hall of Famer, drove.
The next installment of the 2015 Deery Series is on Monday, May 25 when Boone, Iowa, Speed­way hosts the traditional Memorial Day event.
That feature also pays $3,000 to win and a minimum of $300 to start. IMCA Sunoco Stock Cars, Karl Chevrolet Northern SportMods and IMCA Sunoco Hobby Stocks are also on the program.
Pit gates open at 2 p.m., the grandstand opens at 4 p.m., hot laps are at 4 p.m. and racing starts at 5 p.m.
Feature results – 1. Jeff Aikey, Cedar Falls, Iowa; 2. Justin Kay, Wheatland, Iowa; 3. Matt Ryan, Davenport, Iowa; 4. Ray Guss Jr., Milan; 5. Andy Nezworski, Buffalo, Iowa; 6. Ryan Dolan, Lis­bon, Iowa; 7. Nate Beuseling, Silvis; 8. Scott Fitzpatrick, Wheatland, Iowa; 9. Joel Callahan, Dubu­que, Iowa; 10. Jonathan Brauns, Muscatine, Iowa; 11. Todd Malmstrom, Silvis; 12. Jay John­son, West Burlington, Iowa; 13. Mike Garland, Morrison; 14. Tyler Bruening, Decorah, Iowa; 15. Corey Zeitner, Omaha, Neb.; 16. Jeremy Grady, Story City, Iowa; 17. John Emerson, Water­loo, Iowa; 18. Darrel DeFrance, Marshalltown, Iowa; 19. Charlie McKenna, Clear Lake, Iowa; 20. Joe Zrostlik, Long Grove, Iowa; 21. Gary Webb, Blue Grass, Iowa; 22. Shawn Mulvany, Moline; 23. Eric Sanders, Sherrard; 24. Brunson Behning, Davenport, Iowa.
1st heat – 1. Guss; 2. Fitzpatrick; 3. Emerson; 4. Beuseling; 5. Ryan; 6. Garland; 7. DeFrance; 8. Mulvany.
2nd heat – 1. Kay; 2. Malmstrom; 3. Callahan; 4. Dolan; 5. Sanders; 6. Grady; 7. Brauns; 8. Bruening.
3rd heat – 1. Behning; 2. Nezworski; 3. Aikey; 4. Johnson; 5. Webb; 6. Zrostlik; 7. Zeitner; 8. McKenna.