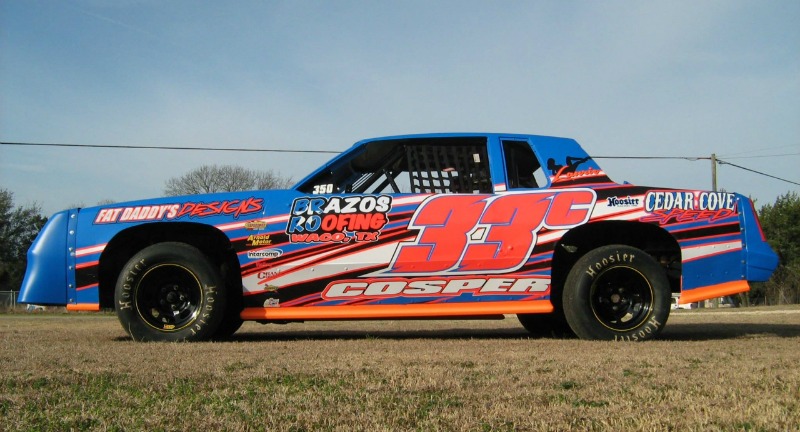 By Ryan Clark
BELTON, Texas – Charles Cosper's approach is simple.
"We try to look good even if we're not fast."
The Belton driver had all bases covered in 2014.
Following a very successful season on the track, Cosper was the October winner of the Sybesma Graphics IMCA Facebook Fan Favorite Contest for fendered divisions. He'll get a mini-hood courtesy of Sybesma.
A weekly runner at Heart O' Texas Speedway in Waco and 281 Speedway in Stephenville, the second-year IMCA Sunoco Stock Car driver exceeded expectations in 2014.
"We had a very good season," stated Cosper. "We ended up winning both track championships and 10 features."
Cosper's local success made him a player in the regional and national standings, as well.
He unofficially ended the season fourth in the Arnold Motor Supply Southern Region and 14th nationally. Final points will become official Oct. 27.
After eight years in an IMCA Sunoco Hobby Stock, Cosper made the move to the Stock Car ranks in 2013.
"We had won state, region and track championships in the Hobby Stock and just thought it was time to move up," he recalled.
His quick success in the Stock Car division was unexpected.
"We were nervous about moving to the Stock Car," admitted Cosper, who won twice in his rookie campaign last season, "but it's all working out."
The highlight of Cosper's sophomore run was the final weekend of points racing.
"We ran Waco that Friday night and then 281 on Saturday and Sunday," he recalled. "We won all three and capped off a great year."
Despite his success this season, it's been an emotional ride for Cosper, whose father, Bud, passed away the first week in July.
"He's the reason I started racing. It's sad he wasn't here to see how we finished out the year."
Cosper's crew includes Chad McLean, girlfriend Laurie Henry and mother Carolyn Cosper.
His sponsors include Fat Daddy's Designs and Brazos Roofing, both of Waco; and Norton's Automotive of Nolanville.