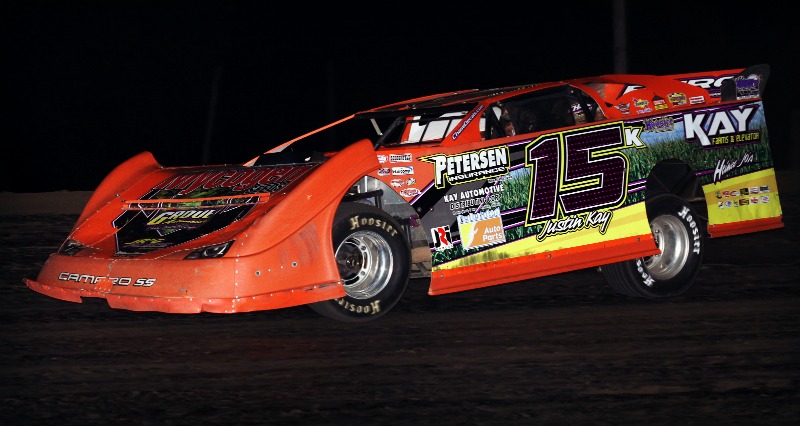 VINTON, Iowa (Sept. 12) – At the rate he's going, Justin Kay won't have to make room in the trophy case.
He'll have to build another one.
On the strength of a division record 24 feature wins, Kay repeated as IMCA's national Late Model champion. He earns a $5,500 share of a $21,300 point fund to be paid to top 20 finishers in national standings that become official on Sept. 29.
From Wheatland, Kay finished with the maximum possible 820 points, a dozen more than runner-up Todd Cooney of Des Moines.
"We raced more this year and got a lot of wins early," said Kay, who received 20 bonus points as champion at Dubuque Speedway and also paced the points at Davenport Speedway. "It seemed like we couldn't do anything wrong at Dubuque. We thought last year was a dream for us when we won eight in a row. We won nine in a row at one point this year."
"It's cool to get 820 points, the most you can get," added Kay, also a four-time winner and point leader in the Deery Brothers Summer Series.
Second in the standings for a fourth straight year, Cooney won 19 features, including his career 200th this season.
The two-time national king raced to track championships at Hamilton County Speedway and Southern Iowa Speedway along with the Sunday Series title and his career eighth Allstar Performance Iowa State crown. He got 12 bonus points for the Hamilton County prize.
Completing the top five in points were 13-time winner Mike Murphy Jr. of Colona, Ill., Ryan Griffith of Webster City and Tyler Bruening of Decorah.
Murphy won the Illinois State title for the second time along with the track title at Quad City Speedway in East Moline, Ill. Rookie of the year John Emerson of Waterloo was a three-time feature winner and finished 11th in the national standings.
Also winning track championships were Griffith at the Iowa State Fairgrounds Speedway in Des Moines; Bruening at Farley Speedway; Curt Martin at his hometown Independence Motor Speedway; Brian Beaudry of Wheatland at Jackson County Speedway in Maquoketa; Melvin Zeitner of Bellevue, Neb., at Shelby County Speedway in Harlan and Andy Eckrich of Oxford at West Liberty Raceway.
Bonus points awarded for Late Model track championships are determined by average weekly car counts up to a maximum of 20; drivers receive the higher bonus point total in the event they win multiple track titles.
Kay will be among the champions honored during IMCA's national awards banquet on Nov. 29 in Lincoln, Neb.
Unofficial top 20 point standings – 1. Justin L. Kay, Wheatland, Iowa, 820; 2. Todd Cooney, Des Moines, Iowa, 808; 3. Mike Murphy Jr., Colona, Ill., 803; 4. Ryan Griffith, Webster City, Iowa, 788; 5. Tyler Bruening, Decorah, Iowa, 777; 6. Ja­son Hahne, Webster City, Iowa, 762; 7. Ray Guss Jr., Mi­lan, Ill., 751; 8. Todd Malmstrom, Silvis, Ill., 750; 9. Nick Marolf, Moscow, Iowa, 745; 10. Joel Callahan, Dubuque, Iowa, 743; 11. John Emerson, Waterloo, Iowa, 732; 12. Jerry King, Waterloo, Iowa, 728; 13. Matt Ryan, Davenport, Iowa, 726; 14. Curt Schroeder, Ames, Iowa, 719 (two feature wins): 15. Nate Beusel­ing, Silvis, Ill., 719 (one feature win); 16. Darrel DeFrance, Marshalltown, Iowa, 718 (two feature wins); 17. Mike Zemo, Daven­port, Iowa, 718 (no feature wins); 18. Brunson Behning, Davenport, Iowa, 700; 19. Jeremy Grady, Story City, Iowa, 697; 20. Cory Goldbeck, Camanche, Iowa, 682.