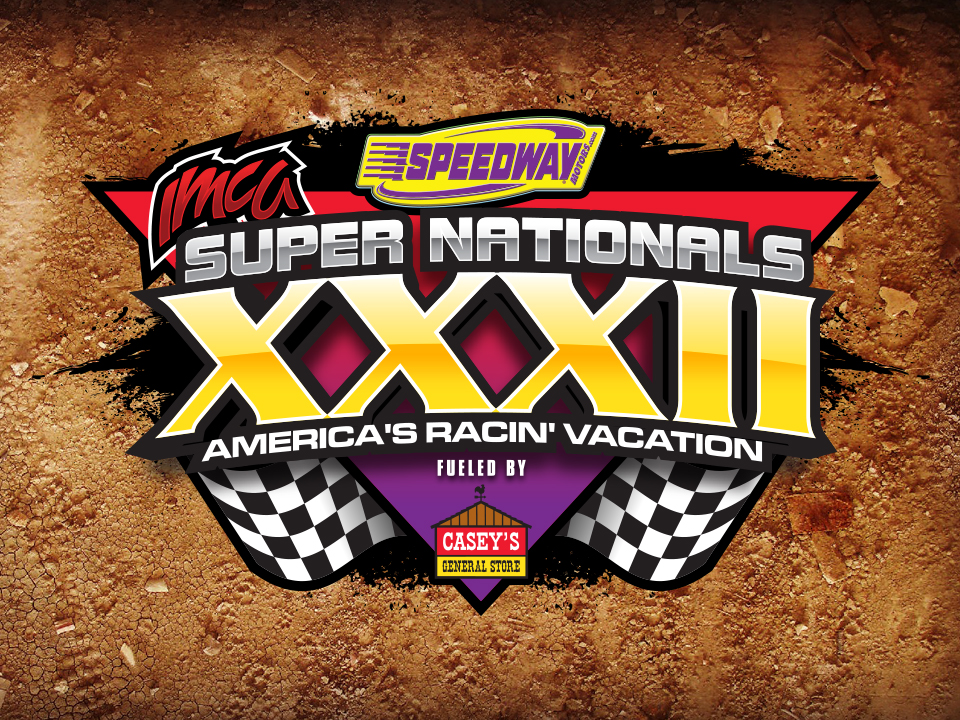 Race of Champions qualifying for Modifieds, Stocks today at Super Nationals
BOONE, Iowa (Sept. 4) – Race of champions heats for Modifieds and Stock Cars and plenty of qualifying races for both divisions are on the Thursday schedule at the IMCA Speedway Motors Super Nationals fueled by Casey's.
The first of five Sunoco Race Fuels RoC heats for the Stock Cars is on the track now at Boone Speedway. Twenty Stock Car heats precede half a dozen Harris Auto Racing Race of Champions heats for the Modifieds.
Ten Modified heats come next, with a pair of 25-lap qualifying features for the Stocks to follow.
Another 20 Modified heats lead up to two more qualifiers, also 25 laps in distance.
The top four finishers from each of Thursday's qualifying features advance to the middle row of Saturday main events.
***
Joe German of Aberdeen, Wash., and Medford, Ore.'s Tom Berry Jr. race against each other on occasion in the Pacific Northwest.
German drove 36 hours and 2,000 miles and found himself in the same heat as Berry (the 29th) when Modifieds began qualifying on Wednesday.
"One of my crew guys came back to the trailer and said Tom was on the front row of our heat. I didn't believe it," German said. "I didn't even know he was coming."
Elected to the Fast Shafts All-Star Invitational, German became the first driver from Washington State to compete at Super Nationals. He's much impressed with everything about America's Racin' Vacation.
"I think it's awesome. Everyone does an awesome job here," said German, adding that he's already met a bunch of good people here in Boone. "I'm impressed, too, that you can get parts right at the track. It takes four or five days to get them at home."
German has been to Iowa just once before, driving through the state at night after picking up a new truck in Illinois. Warnings of a possible tornado on Sunday sent him and his crew to seek shelter in a trailer for a couple hours but all his other experiences here during Super Nationals have been positive.
"I wouldn't be a bit surprised if I was back here next year, whether I was in the All-Star race or not," he said. "I would like to get a couple other guys to come back with me next year. This is a good time."
He'll start from the pole in Thursday's third heat.
***
He's won his shares of races and then some. After racing from 30th starting to a qualifying spot in his Wednesday Modified qualifier, Johnny Saathoff is taking aim next at a title that has eluded him: Super Nationals champion.
"I've won a lot of races from the back but I've never had a race like this at Super Nationals," said Saathoff, a multi-time national champion. "I've seen it all and probably done it all on dirt. I've won every big race except this one."
Now 51 and in his 35th year of racing, Saathoff's best finish in 13 previous Super Nationals starts was second, in 2010.
"We'll see if we can get it done this year," he promised.
*
Mike Jergens got it done this afternoon, besting Paul Stone in a spirited game of roshambo in the fan zone to earn the pole start in Saturday's Modified main event, plus $1,000 or so in contingency awards.
Lining up behind them in the inside row will be Johnny Saathoff, Aaron Turnbull, Richie Gustin, Troy Jerovetz, Josh Most and Jay Noteboom.
***
*
The number of eligible drivers – 75 – necessitated a format change for Harris Auto Racing Race of Champions qualifying, so the winner of each of 12 Modified heats instead of the top two from each of six heats advanced to Saturday's event.
Heat winners were Rich Lewerke of Mason City; Dustin Smith of Lake City; Keith White of Little River Academy, Texas; John Logue of Boone; Eric Dailey of Armstrong; William Gould of Calera, Okla.; Todd Shute of Des Moines; Mike Van Genderen of Newton; Mason Big Eagle of Manor, Sask.; Levi Nielsen of Mason City; Mike Petersilie of Hoisington, Kan.; and Jesse Sobbing of Glenwood.
Lewerke ended a five-year hiatus from racing and won from the back row. Sobbing also started in the back row and won.
An 11-time qualifier, Logue won the RoC in 2001. Smith is the defending race winner.
Shute is in his career fifth Race of Champions, Dailey and Lewerke both their third and Smith, White and Sobbing both their second. Gould, Van Genderen, Big Eagle, Nielsen and Petersilie are each in for the first time.
The Modified RoC pays $1,000 to win, plus lap money, and is a 2015 Fast Shafts All-Star Invitational ballot qualifying event.
*
Fifty-two drivers competed and the top two finishers from each of five qualifying heats advance to Saturday's Sunoco Race Fuels Race of Champions for Stock Cars.
Former race winners Mike Nichols (2004) and Kevin Opheim (2008) topped the first two heats, both while qualifying for the Sunoco RoC for the seventh time.
By heat, the top two were:
1st heat – 1. Mike Nichols, Harlan; 2. Devin Smith, Lake City.
2nd heat – 1. Kevin Opheim, Mason City; 2. Matt Guillaume, Haslet, Texas.
3rd heat 1. Nathan Wood, Sigourney; 2. Michael Jaennette, Newton.
4th heat – 1. Scott Pippert, Elberon; 2. Dan Mackenthun, Hamburg, Minn.
5th heat – 1. Todd Reitzler, Grinnell; 2. Travis VanStraten, Hortonville, Wis.
Pippert qualified for his second career Sunoco Race of Champions. Guillaume, Jaennette, Mackenthun, Reitzler, Smith, VanStraten and Wood all are in for the first time.
The winner's share of the purse is $500; lap money is also at stake.
*
The gloves came off for another roshambo session in the fan zone this afternoon and Jerry Gifford got the best of Jay Schmidt to gain the pole start in Saturday's Stock car main event.
"I checked with my fiancée Danielle Walters and went with paper first, then winged it," Gifford said.
"Starting on the pole at Super Nationals is probably at the top of my career highlight list," he stated. "I'm coming off a track championship here this season and that's probably second.
Gifford led all 30 laps in winning the first qualifying feature on Wednesday.
"I focused on hitting my marks and not messing up," he said. "I thought I had a fast enough car to make it to the end."
***
Gifford's roshambo acumen netted him some neat contingencies.
He will line up on the inside row ahead of 2nd qualifying feature winner Jay Schmidt, defending Super Nationals champion Brandon Czarapata, Travis VanStraten, Trent Murphy, Brian Blessington, Abe Huls and Kyle Vanover.
Blessington noted that he'd "been practicing night and day," but still lost his rock, paper, scissors rematch from a year ago with Murphy.
***
Smith, Tulp are first in Thursday Stock Car qualifiers
BOONE, Iowa (Sept. 4) – Devin Smith and Heath Tulp took different routes to victory lane Thursday night at Boone Speedway.
One of them will start in the front of the middle row of Saturday's Stock Car main event at the IMCA Speedway Motors Super Nationals fueled by Casey's.
The rookie Smith led the last 10 circuits in the first 25-lap qualifier of the evening. Shaun Bruns was second and Mike Nichols third; Smith's older brother David caught Chad Estes for fourth with five laps left.
Tulp was promoted from runner-up to winner of the second qualifier when Marcus Fagan was disqualified for failing post-race engine inspection.
Damon Murty had restarted at the back of the 30-car field after a lap two caution, made the most of a wide-open top side of the track and ended his night in second. Perry Misner raced from 14th starting to third and Chris Pruitt was fourth.
Joining Devin Smith as first-time qualifiers for the Saturday dance are Bruns and Pruitt. Tulp and Misner are both in for the second time, David Smith, Murty and Nichols each for the 10th.
They'll play roshambo in the fan zone on Friday to determine starting spots in the middle row on Saturday.
Gilman, Mills rule Thursday Modified qualifiers at Boone
BOONE, Iowa (Sept. 4) – Josh Gilman and Chris Mills were Thursday night Modified qualifying feature winners as drivers from five states earned berths in the Saturday main event at the IMCA Speedway Motors Super Nationals fueled by Casey's.
Gilman led the last 17 times around the Boone Speedway oval in winning the first 25-lap qualifier. Mills was in front the last seven circuits of the nightcap, which wound down with a mishap that took three of the top six running cars out of contention and then a tight four-car battle to the checkers.
Top four finishers from each qualifier advance to the middle row of the big dance.
Gilman passed Kelly Shryock for the front spot and outran the 19th starting Jared Siefert. Ricky Thornton was third and Nick Roberts, the 2012 Super Nationals SportMod champion, drove from 20th starting to fourth.
Mills rocketed from fourth to first on the 19th lap. Second-running Tyler Limoges and former champions Todd Shute and Jeff Taylor tangled to set up a three-lap battle to the finish.
Defending champion Dylan Smith had started 22nd and took over the runner-up spot with two to go; Scott Drake was third and Troy Cordes fourth.
Cordes qualified for his career 12th Super Nationals Modified main event, Drake his seventh and Siefert his fourth.
Gilman, Mills and Smith are each in for the third time, Thornton the second and Roberts the first. Friday games of roshambo will determine who starts where in the middle row on Saturday.