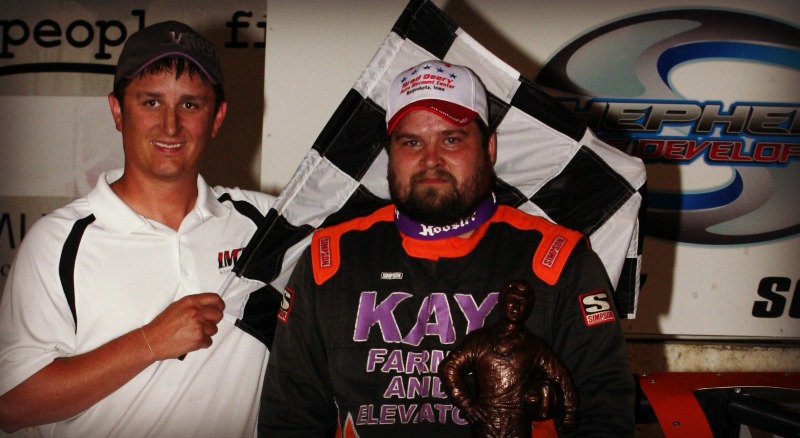 WEST LIBERTY, Iowa (July 8) – The Deery Brothers Summer Series got its first repeat winner and Justin Kay gave himself a bit more breathing room in the IMCA Late Model tour points race Tuesday night.
Kay got the better of Nick Marolf in a back-and-forth battle at West Liberty Raceway that saw the frontrunners swap the lead six times over the course of 40 caution-free laps.
The win paid $3,000 and was the Deery career fifth for Kay. Kyle Hinrichs regained third late in the race from defending series champion Brian Harris.
Completing the top five was Andy Eckrich, still second but now nine points behind Kay in the standings.
Kay started third and followed the inside groove while Marolf drew the pole and ran a line higher. Marolf's longest stint in the lead covered laps 14 through 28. Three lapped cars separated Kay and Marolf at the finish.
Kay's first tour victory this season came on May 4 at Quad City Speedway. Tire samples were taken from each of the top two so race results from Tuesday remain unofficial.
Darrel DeFrance was the $250 Sunoco Race Fuels feature qualifying drawing winner at West Liberty. Richie Gustin, already on the Fast Shafts All-Star Invitational ballot, was the fastest in a field of 24 IMCA Xtreme Motor Sports Modifieds and earned $1,000.
The eighth of 16 series events this season is Sunday, July 13 at Dubuque Speedway. Pit gates open at 4 p.m., the grandstand opens at 4:30 p.m. and racing follows 6 p.m. hot laps.
Feature results – 1. Justin Kay, Wheatland; 2. Nick Marolf, Moscow; 3. Kyle Hinrichs, Swisher; 4. Brian Harris, Davenport; 5. Andy Eckrich, Oxford; 6. Denny Eckrich, Tiffin; 7. Jay Johnson, West Burlington; 8. Colby Springsteen, Wapello; 9. Tyler Bruening, Decorah; 10. Ryan Dolan, Lisbon; 11. Rob Moss, Iowa City; 12. Jeff Aikey, Cedar Falls; 13. Spencer Diercks, Davenport; 14. Jonathan Brauns, Muscatine; 15. Kevin Kile, West Liberty; 16. Tommy Elston, Keokuk; 17. Joel Callahan, Dubuque; 18. Scott Fitzpatrick, Long Grove; 19. Ron Boyse, Kalona; 20. Darrel DeFrance, Marshalltown; 21. Jeremy Grady, Story City; 22. Nate Beuseling, Silvis, Ill.; 23. Jason Rauen, Farley; 24. Ray Guss Jr., Milan, Ill.
1st heat (top three) – 1. Denny Eckrich; 2. Kay; 3. Callahan; 4. Kile; 5. Dolan; 6. Beuseling; 7. Curt Martin, Independence; 8. Charlie McKenna, Clear Lake.
2nd heat – 1. Marolf; 2. Diercks; 3. Springsteen; 4. Fitzpatrick; 5. Elston; 6. Jay Chenoweth, Wapello; 7. Grady; 8. Matt Ryan, Davenport.
3rd heat – 1. Harris; 2. Andy Eckrich; 3. Aikey; 4. Moss; 5. Tom Darbyshire, Morning Sun; 6. Guss; 7. Chad Holladay, Muscatine; 8. DeFrance.
4th heat – 1. Hinrichs; 2. Johnson; 3. Brauns; 4. Bruening; 5. Boyse; 6. Rauen; 7. Allan Hopp, Harlan; 8. Jon Merfeld, Dubuque.
1st "B" feature (top four) – 1. Kile; 2. Moss; 3. Dolan; 4. Beuseling; 5. Guss; 6. Holladay; 7. DeFrance; 8. McKenna; 9. Martin; 10. Darbyshire.
2nd "B" feature – 1. Bruening; 2. Fitzpatrick; 3. Elston; 4. Boyse; 5. Chenoweth; 6. Grady; 7. Rauen; 8. Hopp; 9. Merfeld; 10. Ryan.
Hard charger – DeFrance. Point provisionals – Grady, Rauen and Guss.