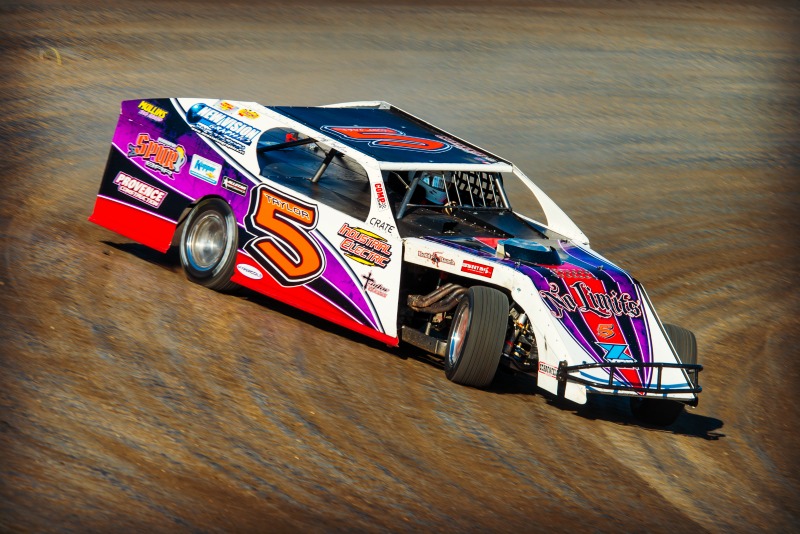 ESTEVAN, Sask. (July 7) – Despite leading all 30 laps, Jeff Taylor got to enjoy Monday's Kupper Chevrolet Dakota Classic Tour main event at Estevan Motor Speedway from a couple perspec­tives.
Taylor won his second IMCA Xtreme Motor Sports Modified tour event in as many nights while Steven Pfeifer was second and Shawn Anderson fourth in Taylor Chassis rides.
"I'd have been happy with either one of them passing me and winning," Taylor said. "I'd have been tickled to death."
The win was worth $2,000 and came in a contest slowed by caution just once, on lap 12. Curt Lund was third and Shawn Anderson fifth.
Seventy-six Modifieds from 14 states and Canada ran at Estevan. That's the most ever entries for the division north of the border as the series set new car count records in the first two events of 2014.
"I never thought about winning the first two races of this series. It's the first time I've ever started a series like this," said Taylor, who'd topped the Sunday show at Nodak Speedway. "There is some luck involved but we've got a good car."
Dalton Flory topped the $800 to win tour feature for IMCA Sunoco Stock Cars, taking the check­ers ahead of defending champion and first-night winner Elijah Zevenbergen.
"It's awesome to get a win on this tour because you've got all these heavy hitters here," said Flory, who led every time around in a 25-lapper than went green to checkers. "I could run with them last year so it was good to be able to show what I can do in a race car."
Flory encountered his first lapped cars just 10 circuits in and caught up with slower cars again with five to go. Zevenbergen peeked inside a couple times but couldn't catch Flory. He'd won four straight tour starts dating back to last July 9.
Brendon LaBatte, Kody Scholpp and Jake Nelson ended third through fifth, respectively. Primary sponsors for Flory's ride are his parents Joe and Misti.
A new series record 36 Stock Cars saw action Monday.
The third of six series installments takes both divisions to Williston Basin Speedway for a Tues­day, July 8 program. Pit gates open at 2 p.m., the grandstand opens at 5 p.m., hot laps are at 6 p.m. and racing starts at 7 p.m.
Feature Results
Modifieds – 1. Jeff Taylor, Cave City, Ark.; 2. Steven Pfeifer, Minot, N.D.; 3. Curt Lund, Redwood Falls, Minn.; 4. Shawn Anderson, Minot, N.D.; 5. Scott Drake, Joplin, Mo.; 6. David Murray Jr., Oberlin, Kan.; 7. Jett Big Eagle, Manor; 8. Jordan Grabouski, Beatrice, Neb.; 9. Mike Jergens, Plover, Iowa; 10. Brian Mullen, Seymour, Wis.; 11. Adam Larson, Ankeny, Iowa; 12. Rusty Koll­man, Carrington, N.D.; 13. Tim Ward, Gilbert, Ariz.; 14. Mike Hansen, Dickinson, N.D.; 15. Shawn Strand, Mandan, N.D.; 16. Eric Burwick, Dickinson, N.D.; 17. Spencer Wilson, Minot, N.D.; 18. Jeremy Keller, Mandan, N.D.; 19. Jordan Huettl, Minot, N.D.; 20. John Hansen, Brush, Colo.; 21. Tanner Matthewson, Redvers; 22. Lance Mari, Imperial, Calif.; 23. Ed Turnbull, Estevan; 24. John Flory, Williston, N.D.; 25. Tracy Domagala, Bismarck, N.D.; 26. Eric Sinness, Williston, N.D.
Heat winners were Murray, Anderson, Turnbull, Larson, Lund, Pfeifer, Taylor and Drake.
1st "B" feature (top four) – 1. Mullen; 2. Flory; 3. Huettl; 4. Domagala. 2nd "B" feature – 1. Big Eagle; 2. Grabouski; 3. Keller; 4. Ward. 3rd "B" feature – 1. Mari; 2. Kollman; 3. Matthewson; 4. Sinness. 4th "B" feature – 1. Burwick; 2. Jergens; 3. Mike Hansen; 4. John Hansen.
Stock Cars – 1. Dalton Flory, Williston, N.D.; 2. Elijah Zevenbergen, Ocheyedan, Iowa; 3. Bren­don LaBatte, Radville; 4. Kody Scholpp, Estevan; 5. Jake Nelson, Williston, N.D.; 6. Jordan Dur­ward, Trenton, N.D.; 7. Dave Swallers, Williston, N.D.; 8. Greg Wichman, Bonduel, Wis.; 9. Na­than Burke, Minot, N.D.; 10. Gregg Mann, Estevan; 11. Jeremy Swanson, Clarinda, Iowa; 12. Aus­tin Daae, Estevan; 13. Jake Lunderby, Sidney, Mont.; 14. Perry Misner, Garden City, Kan.; 15. Terry Davidson, Rosetown; 16. Matt Speckman, Sleepy Eye, Minn.; 17. Rocky Alexander, Estevan; 18. Stefan Klym, Weyburn; 19. Sterling LaBatte, Weyburn; 20. Chris Ellis, Minot, N.D.; 21. Beau Deschamp, Bottineau, N.D.; 22. Cody Nelson, Kenmare, N.D.; 23. Justin Striefel, Minot, N.D.; 24. Scott Yale, Minot, N.D.
1st heat (top three) – 1. Scholpp; 2. Jake Nelson; 3. Mann. 2nd heat – 1. Zevenbergen; 2. Bren­dan LaBatte; 3. Burke. 3rd heat – 1. Flory; 2. Daae; 3. Swallers. 4th heat – 1. Wichman; 2. Klym; 3. Yale.
1st "B" feature (top six) – 1. Durward; 2. Misner; 3. Swanson; 4. Davidson; 5. Cody Nelson; 6. Alexander. 2nd "B" feature – 1. Speckman; 2. Ellis; 3. Striefel; 4. Lunderby; 5. Sterling LaBatte; 6. Deschamp.
30