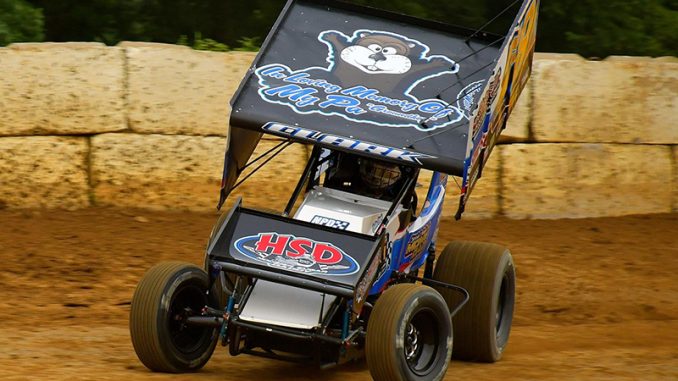 HAMERSVILLE, Ohio – Justin Clark knew he'd have to travel to have a shot at winning the IMCA RaceSaver Sprint Car national championship. 
After winning 16 times in five states and with as many different series, he accomplished just that.
From Hamersville, the fourth-year RaceSaver competitor became the first driver from Ohio in more than half a century to win the national IMCA Sprint Car crown.
"With the number of races here (in Ohio), we knew we'd have to work hard and travel if we wanted to win it. I feel like I raced 80 times with all the traveling we did," said Clark, who collected nine checkers in his home state, along with feature victories in North Carolina, Indiana, Kentucky and Pennsylvania. "We have really enjoyed this division. There were challenges this year but when we got knocked down, we got back up."
Clark won 10 times in topping Ohio Thunder Sprint Series points – he won the July 10 feature at Wayne County Speedway after restarting 18th – and once en route to the Schaeffer's Oil Indiana RaceSaver Sprint Series title, picking up Allegheny Sprint Tour, Carolina Sprint Tour and Laurel Highlands Sprint Series victories as well.
Those wins and consistent top five finishes throughout the year came despite flipping twice and battling engine and driveline issues that forced Clark to alternate between backup and primary cars more than he wanted.
He overcame tire drama on the final Saturday night of the year at Atomic Speedway, ultimately clinching series, KMJ Performance Ohio State and national crowns with a hard-fought run back to fifth place that evening.
"The car was the worst it had been all year, but I won my heat and started in the second row. I told myself all I needed to do was stay out of trouble," Clark said. "I'd never blown a tire before but that's what happened with about 13 laps to go."
"I finally got back on the track, got by five cars on one lap and worked by way back to fifth," he continued. "We didn't win that night but it was definitely one of the highlights of our season."
Clark raced with a groundhog character painted on his wing, remembering his late grandfather Bob Groundhog Conner. He put the ribbon on a self-described amazing year by winning the 10th annual Keystone RaceSaver Challenge at Pennsylvania's Port Royal Speedway on Oct. 23.
"It was a good year and that was a good way to finish the season," he said. "That was my first-ever win at Port Royal and we felt pretty good about that."
Clark is now a 26-time winner in his IMCA RaceSaver career. The last Ohio driver to win the IMCA Sprint Car national crown had been Darl Harrison in 1969.
Starts-35 Wins-16 Additional Top Fives-10
His Crew: Mother Lisa and Brandon Clay.
His Sponsors: Hydrosystems of Newtown; Pruform Race Products of Lexington; Montgomery Motorsports of Jackson; Flicker Graphics of Cincinnati; Maxim Racing Chassis of Springfield, Ill.; NPD Race Engines of Pittsboro, Ind.; Benic Shocks of Marion, Ind.; Hoosier Sugar Daddy of Martinsville, Ind.; Jason Dunn State Farm of Frankfort, Ky.; Simpson Race Products of Indianapolis, Ind.; Finish Line Paint and Drywall of Kalamazoo, Mich.; Xplicit Designz of Hartly, Del.; Walker Performance Filtration of Sun Valley, Calif.; Worch Racing of Washington; and My Three Buddies T3G of Ohio.