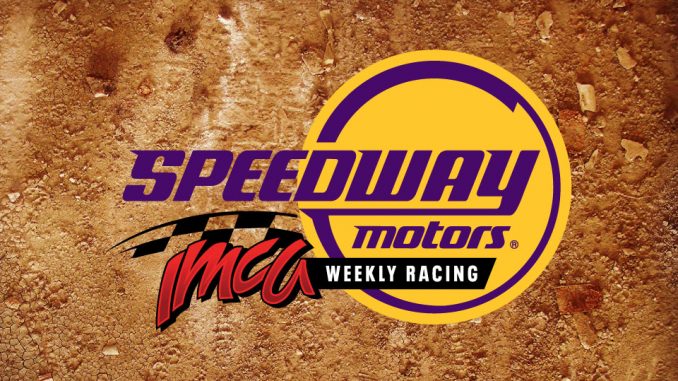 VINTON, Iowa (Aug. 26) – Veteran Matt Ryan and newcomer Cory Dumpert will reign as national champi­ons in the IMCA Late Model division. 
Both finished the 2019 IMCA Speedway Motors Weekly Racing point season with 594 points and 10 40-point feature wins.
"This was an extraordinary season in terms of growth of our Late Model division, both in the num­ber of licensed drivers and the number of sanctioned race tracks," IMCA President Brett Root said. "It is only fitting that the national title chase ends shared by drivers from areas with established tracks and with newly-sanctioned tracks."
"Both drivers," he added, "deserve all the recognition they receive."
Ryan, from Davenport, Iowa, and Dumpert, from York, Neb., will both receive $5,000 shares of the national divisional point fund.
Ryan has been runner-up in the national points race in three of the past four years. Now a three-time E3 Spark Plugs Illinois State champion, he has 57 wins over the course of his career, 16th on the all-time list for the division.
The national rookie of the year, Dumpert also has a championship from his home state to show for his first IMCA season.
Defending national champion Jeremiah Hurst, 1987 national champion Jeff Aikey and four-time king Justin Kay followed Ryan and Dumpert in the points race.
IMCA Late Model national top 20 point standings – 1. Matt Ryan, Davenport, Iowa, and Cory Dumpert, York, Neb., both 594; 3. Jeremiah Hurst, Dubuque, Iowa, 589; 4. Jeff Aikey, Cedar Falls, Iowa, 587; 5. Justin L. Kay, Wheatland, Iowa, 582; 6. Andy Nezworski, Buffalo, Iowa, 577; 7. Todd Malmstrom, Hampton, Ill., 553; 8. Dalton Simonsen, Fairfax, Iowa, 537; 9. Eric Pollard, Peosta, Iowa, 529; 10. Gary Webb, Blue Grass, Iowa, 525; 11. Jim Johnson, Plainview, Neb., 523; 12. Curtis Glover, Runnells, Iowa, 520; 13. Zachary Zentner, Cedar Rapids, Neb., 516; 14. Robert Osborne, Norfolk, Neb., 508; 15. William "B.J." Jackson, Clinton, Iowa, 493; 16. Chuck Hanna, Port Byron, Ill., 486; 17. Lake Knutti, Chadwick, Ill., 485; 18. Chase Osborne, Battle Creek, Neb., 483; 19. Les Siebert, York, Neb., 479; 20. Shawn Cooney, Bondurant, Iowa, 475.