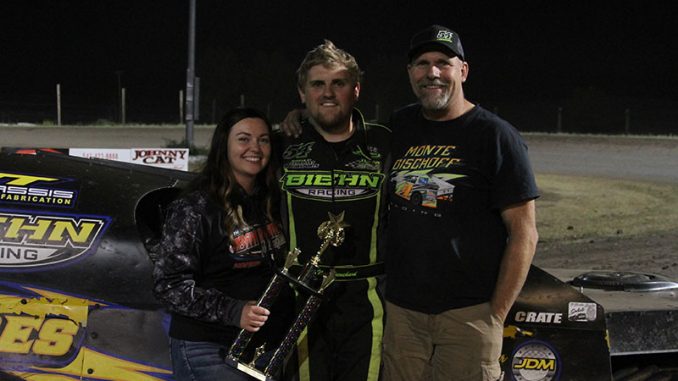 By Don Martin II
WHITE CITY, Ore. (June 2) – After taking the lead from Preston Jones early in the race, Nick Trench­ard went on to victory in the 25-lap IMCA Modified main event Saturday at Southern Ore­gon Speedway.
This was the sixth annual Roger Haudenshild Tribute race and the win paid $2,000 to Trenchard, new to the Fast Shafts All-Star Invitational ballot. It was also his third win in the big event.
Jones paced just one lap before Trenchard made an outside pass to gain the lead. On the third lap, Albert Gill took second and Duane Orsburn made his way to third.
By then, Trenchard was a straightaway in the lead, leaving behind him a good battle between Gill and Orsburn for second. Trenchard was working lapped traffic and in command when the caution flew on lap 11. Orsburn worked his way to second following the second restart.
Trenchard set a rapid pace and soon had a straightaway advantage. The man making the charge was Dave Duste Jr., who had fifth on the last restart and took fourth from Jones on lap 17.
Orsburn did a good job of handling the pressure in the battle for second, but Gill made a low pass on lap 22 to regain the position. Trenchard was never seriously threatened in posting an impres­sive victory.
Gill was a strong second and Orsburn spun on the final lap as he was battling Duste for third. Duste claimed the third position, followed by Zach Fettinger and Jones.
Trenchard added $200 to his total by winning the special 11-lap Crack The Whip race.
Fred Ryland was the Karl Chevrolet Northern SportMod feature winner. Justin McCreadie topped Crack The Whip.
Additional purse money was sponsored by the Haudenshild Family and Dusty's Transmissions of Central Point.
Feature Results
Modifieds – 1. Nick Trenchard; 2. Albert Gill; 3. Dave Duste Jr.; 4. Zack Fettinger; 5. Preston Jones; 6. Jesse Bailey; 7. Duane Orsburn; 8. Jon DeBenedetti; 9. Dave Satterfield; 10. C.J. Put­nam; 11. Stan Gunderson; 12. James Welshonse; 13. Andy Freeman; 14. Bo Shields; 15. Brett Provost; 16. Jantzen Knips; 17. Mark Wauge; 18. Daniel Herreira.
Northern SportMods – 1. Fred Ryland; 2. Jimmy Ford; 3. Mike Medel; 4. Justin McCreadie; 5. David Marble; 6. Justin Foux; 7. Brandon Wilson; 8. Jon Rouden; 9. Patti Ryland; 10. Willie McFall; 11. Tony Bartell; 12. Brian Knorr; 13. Dwayne Melvin; 14. Jesse Merriman; 15. Brian Cooper; 16. Danny Rule; 17. Billy Richey; 18. Steve Lysingser; 19. Tony Duste; 20. Braxton Possin­ger; 21. Jimmy Lipke; 22. Jacob Hoppes; 23. A.J. Parker.