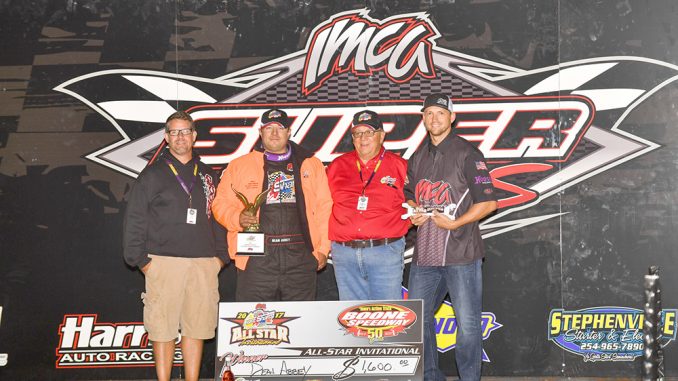 BOONE, Iowa (Sept. 8) – The magnitude of his Friday accomplishment at Boone Speedway was not lost on Dean Abbey.
The Roanoke, Texas, hotshoe led the last 24 times around the track in winning the 30-lap Fast Shafts All-Star Invitational, on night five of the IMCA Speedway Motors Super Nationals fueled by Casey's.
"I just ran 30 laps with the best Modified drivers in the country," said Abbey, who had to hold off two-time race winner Jay Noteboom of Hinton as the race wound down. "National championships are great but nothing compares to winning on IMCA's biggest stage. Nothing."
The only caution of the contest came before a lap could be scored and William Gould of Calera, Okla., led the first six circuits from the pole before Abbey charged ahead.
Noteboom started from the middle of the third row and took over second 10 laps in. A lapped car separated the top two at midway but Noteboom was quickly around and stayed right behind Abbey to the finish.
"My strategy was to run every lap as hard as I could. I wasn't sure who it was that was behind me the last six or seven laps," Abbey said, "but I was going to hold my line and stick with it."
"We went back to the drawing board tonight," he added. "We went back to the setup we used at the Prelude (last Saturday at Boone) and it paid off."
Abbey is the first Texan to win the event. Completing the top five were William Gould, Kyle Brown of Madrid and Johnny Scott of Cameron, Mo.
Twice a Scoggin-Dickey Parts Center Southern SportMod national champion, Abbey had a pair of mid-pack finishes in his first two All-Star starts, in 2014 and 2015.
His $1,600 share of the purse includes $600 in lap money courtesy of Bilstein. Abbey's victory also put him on the ballot for the 2018 All-Star event.
Twenty-eight All-Stars had been elected by race fans from a field of 131 drivers who won 2016 regional or state championships, or sanctioned features paying $1,000 or more. Friday's final two starters were the drivers with the top national point total and most 40-point feature wins competing at Super Nationals.
Fourteen states were represented in the All-Star field.
Feature results – 1. Dean Abbey, Roanoke, Texas; 2. Jay Noteboom, Hinton; 3. William Gould, Calera, Okla.; 4. Kyle Brown, Madrid; 5. Johnny Scott, Cameron, Mo.; 6. Clay Money, Penokee, Kan.; 7. Tim Ward, Chandler, Ariz.; 8. Ethan Dotson, Bakersfield, Calif.; 9. Todd Shute, Des Moines; 10. Kelly Shryock, Fertile; 11. Ricky Thornton Jr., Chandler, Ariz.; 12. Richie Gustin, Gilman; 13. Kyle Strickler, Mooresville, N.C.; 14. Jordan Grabouski, Beatrice, Neb.; 15. Mike Jergens, Plover; 16. Matt Guillaume, Haslet, Texas; 17. Cory Sample, Winnemucca, Nev.; 18. Clinton Luellen, Minburn; 19. Chris Abelson, Sioux City; 20. Steven Bowers Jr., Topeka, Kan.; 21. Will Ward, Cobleskill, N.Y.; 22. Jason Wolla, Ray, N.D.; 23. Hunter Marriott, Brookfield, Mo.; 24. A.J. Ward, Ionia, Mich.; 25. Jeremy Payne, Buckeye, Ariz.; 26. Corey Dripps, Reinbeck; 27. Darin Duffy, Urbana; 28. Ricky Alvarado, Delta, Colo.; 29. Jimmy Gustin, Marshalltown; 30. Jeff Taylor, Cave City, Ark.