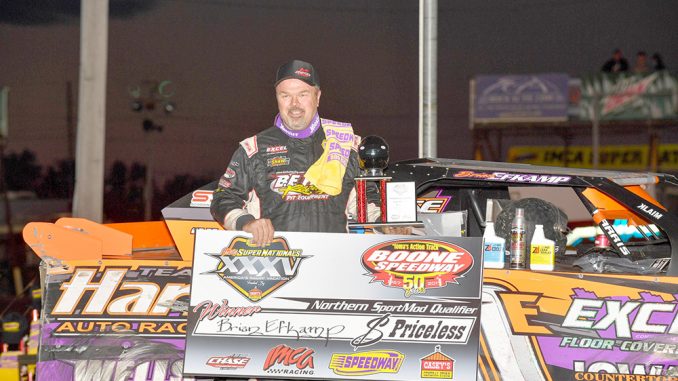 BOONE, Iowa (Sept. 5) – When Brian Efkamp takes the green flag for the final time in his racing career Saturday night, he'll do so from the middle of the front row of the IMCA Speedway Motors Super Nationals fueled by Casey's championship race for Northern SportMods.
Efkamp, from Ankeny, won the first of two qualifying features during the Tuesday evening program at Boone Speedway. He had started sixth, took over the front spot when leader Justin Addison got into the back stretch wall, then held onto the point through a series of cautions that slowed the 25-lapper.
Tyler Soppe of Sherrill and Tony Olson of Cedar Rapids headed the pursuit but had to settle for second and third, respectively.
"I can't believe it. This is just a dream come true," Efkamp said during the post-race interview, admitting that his thoughts turned to family during caution periods and adding that winning the final race of his career on Saturday would be another dream come true.
Efkamp was IMCA's national Stock Car champion in 1989. He'll line up Saturday ahead of Soppe, Olson, Nelson Vollbrecht of Stanton, Neb., Chad Ryerson of Wellsburg, 2014 Super Nationals champion Johnathon Logue of Boone, Daniel Drury of Eldora and Chase Rudolf of Prole.
Olson becomes a six-time qualifier while Vollbrecht and Logue are each in for the fourth time. Soppe and Ryerson are three time qualifiers, Drury is in for the second time and Rudolf for the first.
Efkamp made the Saturday Stock Car show at Super Nationals five times.
Feature results – 1. Brian Efkamp, Ankeny; 2. Tyler Soppe, Sherrill; 3. Tony Olson, Cedar Rapids; 4. Nelson Vollbrecht, Stanton, Neb.; 5. Chad Ryerson, Wellsburg; 6. Johnathon Logue, Boone; 7. Daniel Drury, Eldora; 8. Chase Rudolf, Prole; 9. Lucas Lamberies, Clintonville, Wis.; 10. Jesse Skalicky, Fargo, N.D.; 11. Kyle Olson, Cedar Rapids; 12. Thomas Egenberger, Des Moines; 13. Jake Sachau, Denison; 14. Vince Engebregtsen, Algoma, Wis.; 15. Arie Schouten, Blair, Neb.; 16. Alec Fett, Thompson; 17. Nicholas Carpenter, Leavenworth, Kan.; 18. Shawn Umentum, Green Bay, Wis.; 19. George Nordman, Mason City; 20. Jared Nytroe, Brandon, S.D.; 21. Cory Pestotnik, Boone; 22. Daniel Tasler, Jefferson; 23. Bryan Rigsby, Topeka, Kan.; 24. Jaylen Wettengel, Topeka, Kan.; 25. Austen Becerra, Bowen, Ill.; 26. Rocky Caudle, Ellsworth; 27. Hunter Parson, Green Bay, Wis.; 28. Carter Vandenberg, Oskaloosa; 29. Justin Addison, Norfolk, Neb.; 30. Kyle Welch, Sioux City.