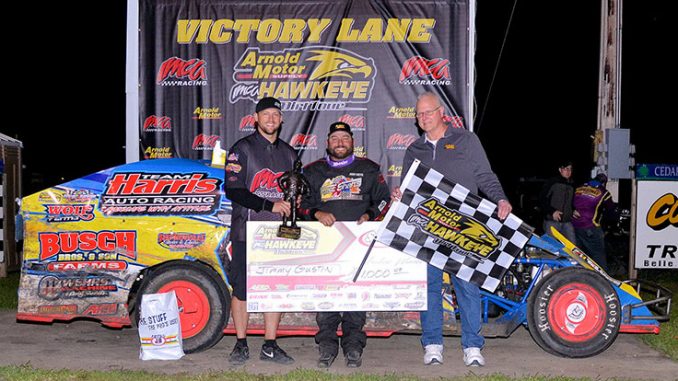 VINTON, Iowa (May 29) – A driver accustomed to winning on IMCA's biggest stages did so again Monday night.
Jimmy Gustin won the IMCA Modified feature on opening night for the Arnold Motor Supply Hawkeye Dirt Tour at Benton County Speedway.
The victory was his first-ever at Vinton, his first since the death of his grandfather Dale DeFrance last week and his career 100th in the division.
"Winning tonight means a lot to me. We definitely had the right guy watching over us," Gustin said after the $1,000 to win 35-lapper brought an end to the Memorial Day show. "I'm proud of the accomplishment (winning 100 career features) and joining an elite group of drivers. This is all I needed to get my confidence back. Now we've got to start toward 200 wins."
The only caution of the race came on the fourth circuit. Late Model regular John Emerson led the first 17 times around the oval, then got caught behind a slower car and watched Gustin drive by.
Hunter Marriott, the $2,000 winner at Vinton on Sunday, motored past pole starter Brandon Maitland for third with nine laps left. Gustin and Emerson continued to fight it out up front, the distance between them less than a car length as they ran with traffic with four to go.
Emerson tried the high line the next time around but lost ground in doing so. Marriott took over second but didn't have time to catch Gustin.
Emerson, Kelly Shryock and Joel Rust rounded out the top five.
"I definitely did not want to see a caution late in the race," said Gustin, already on the Fast Shafts All-Star Invitational ballot. "There were a lot of good cars behind me."
Gustin had won two previous Hawkeye Dirt Tour events, both at Kossuth County Speedway, in 2013 and 2014. He became the third IMCA driver to reach the 100 career win mark this season.
"I think my bad luck at Vinton dates back to about 2002," said Gustin, the 2010 IMCA Speedway Motors Super Nationals fueled by Casey's champion and two-time defending Fast Shafts All-Star Invitational winner. "It's amazing – I've wanted to check this off my bucket list for a long time. Now if I can just win at Oskaloosa …"
Round two for the Arnold Motor Supply Hawkeye Dirt Tour is Tuesday, June 6. IMCA Modifieds will join touring IMCA Late Models for a midweek special at Marshalltown Speedway.
Jeff Mueller and Matt Petrzelka were $1,000 feature winners in the IMCA Sunoco Stock Car and Karl Chevrolet Northern SportMod divisions, respectively, while Nathan Ballard's IMCA Sunoco Hobby Stock win paid $500.
Mueller held off Damon Murty and led start to finish in the Stock Car main. Petrzelka took over the front spot when leader Ethan Braaksma was penalized for a jackrabbit restart and led the last 15 laps, winning ahead of Tyler Soppe.
Ballard rocketed from 10th starting to lead the last 10 circuits in the Hobby Stock 15-lapper.
Modified Results
Feature – 1. Jimmy Gustin, Marshalltown; 2. Hunter Marriott, Brookfield, Mo.; 3. John Emerson, Waterloo; 4. Kelly Shryock, Fertile; 5. Joel Rust, Grundy Center; 6. Clay Money, Penokee, Kan.; 7. Kyle Brown, Madrid; 8. Brandon Maitland, Waterloo; 9. Tyler Droste, Waterloo; 10. Troy Cordes, Dunkerton; 11. Scott Hogan, Vinton; 12. Ryan Maitland, Waterloo; 13. Jacob Murray, Hartford; 14. Jesse Hoeft, Forest City; 15. Todd Shute, Des Moines; 16. Corey Dripps, Waterloo; 17. Shane DeMey, Denison; 18. Mitch Manternach, Manchester; 19. Cody Knecht, Whittemore; 20. Racer Hulin, Laurel; 21. Jeff Waterman, Quincy, Ill.; 22. Austin Kaplan, Ankeny; 23. Patrick Flannagan, Cedar Rapids; 24. David Brown, Kellogg. 
1st heat (top three) – 1. Shryock; 2. Gustin; 3. Money; 4. Hulin; 5. Schuyler Nahre, Indianapolis, Ind.; 6. Ed Thomas, Waterloo; 7. Cory Sauerman, Johnston; 8. Murray; 9. Jerry Dedrick, Vinton. 
2nd heat – 1. Rust; 2. Waterman; 3. Hoeft; 4. Hogan; 5. Kaplan; 6. David Brown; 7. Knecht; 8. Colby Heishman, Brooklyn. 
3rd heat – 1. Marriott; 2. Shute; 3. Droste; 4. DeMey; 5. Kyle Brown; 6. Ryan Maitland; 7. Dennis Betzer, Central City; 8. Dripps.
4th heat – 1. Cordes; 2. Emerson; 3. Brandon Maitland; 4. James Wonick, Iowa City; 5. Flannagan; 6. Manternach; 7. Austin Blume, Mt. Morris, Ill.; 8. Josh Barta, Cedar Falls.
1st "B" feature (top five) – 1. Hulin; 2. Hogan; 3. David Brown; 4. Murray; 5. Kaplan; 6. Dedrick; 7. Knecht; 8. Nahre; 9. Heishman; 10. Sauerman; 11. Thomas. 
2nd "B" feature – 1. Kyle Brown; 2. Flannagan; 3. DeMey; 4. Ryan Maitland; 5. Manternach; 6. Wonick; 7. Barta; 8. Betzer; 9. Blume; 10. Dripps.
Stock Cars – 1. Jeff Mueller, Albion; 2. Damon Murty, Chelsea; 3. Johnny Spaw, Cedar Rapids; 4. John Oliver, Danville; 5. Bob Ahrendsen, Cedar Rapids; 6. Norman Chesmore, Rowley; 7. Curtis Roster, Vinton; 8. Justin Stander, Shellsburg; 9. Scooter Dulin, Cedar Rapids; 10. Shane Ebaugh, Evansdale; 11. Brandon Jacoby, Waterloo; 12. Nathan Wood, Sigourney; 13. Trent Jeanes, Chariton; 14. Shane Paris, Muscatine.
Northern SportMods – 1. Matt Petrzelka, Norway; 2. Tyler Soppe, Sherrill; 3. Joey Schaefer, Waterloo; 4. Ethan Braaksma, Newton; 5. Jared VanDeest, Grundy Center; 6. Kyle Olson, Cedar Rapids; 7. Tim Current, Bernard; 8. Gage Neal, Ely; 9. Dakoda Sellers, Waverly; 10. Brian Kauffman, Cedar Rapids; 11. Tony Olson, Cedar Rapids; 12. Kyle Bentley, Fairbank; 13. Randy Lamar, Buffalo; 14. Brandon Tharp, Center Point; 15. Jacob Arp, Donahue; 16. Aaron Mitchell, Palo; 17. Jami Ritter, Keystone; 18. Tom Lathrop, Ottumwa; 19. Jason Delzell, Wapello; 20. Danny Dvorak, Vinton; 21. Ben Chapman, Clarence; 22. Brian Sondag, Urbana; 23. Scott Meyers, Newhall; 24. Lee Becker, Belle Plaine; 25. Ryan King, Montour.
Hobby Stocks – 1. Nathan Ballard, Marengo; 2. Brett Vanous, Quasqueton; 3. Daniel Wauters, Iowa City; 4. Matt Pohlman, Keystone; 5. Matt Brown, Dysart; 6. Justin Wacha, Vinton; 7. Leah Wroten, Independence; 8. Tom Stevens, Brooklyn; 9. Jacob Floyd, Cedar Rapids; 10. Trent Newhaus, Quasqueton; 11. Derrick Thran, Grundy Center; 12. Kyle Dulin, Brandon. DQ-Joe Docekal, Dysart.