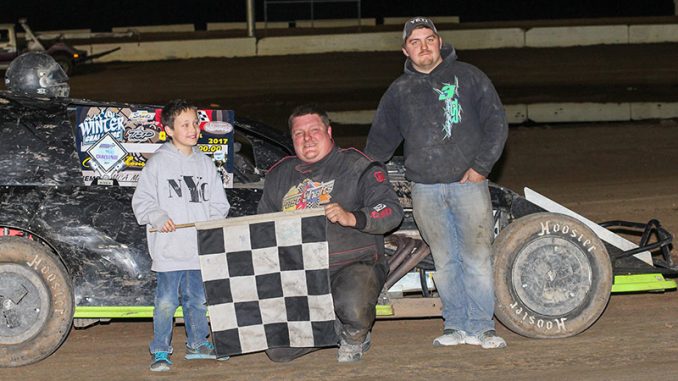 By Tony Steele
PEORIA, Ariz. (Jan 28) – Round One of the 2017 edition of the Winter Challenge at Canyon Speed­way Park is now in the books. North Dakota's Jason Wolla put in a dominating effort as he took home the checkered flag in the IMCA Modified portion of the event.
"The Big Show" Wolla was quick to take the lead from his sixth starting position, but staying there proved to be no easy task. Constant challenges from John Parmeley made Wolla earn every penny of his $1,000 payday, including a crossover move to re-take the lead after Parmeley briefly got by him.
Already a Fast Shafts All-Star Invitational ballot candidate, Wolla bested the 35 IMCA Modifieds checked in for the 25-lap afternoon show while Cody Laney brought his car home in second. Tim Ward, Parmeley and Brian Schultz rounded out the top five. Schultz had the most impressive run of the evening as he started 23rd in the field.
Jason George held off numerous challengers to keep his Karl Chevrolet Northern SportMod win­ning ways going while Aaron Spangler re-visited Canyon's victory lane in the IMCA Sunoco Stock Cars. Steve Soboski rolled to the lead early and never looked back in IMCA Sunoco Hobby Stock competition.
In all, 88 cars saw action Saturday at Peoria.
Spangler found himself back in victory lane, just months after the Colorado driver took home the biggest stock car race in the state of Arizona at the Stock Car Shootout back in September. Jason Jen­sen from Wisconsin led most of the early portions of the race until Spangler took advantage of a slip-up by Jensen. Once Spangler had the lead he held off hard-charging Cody Center and Bo Partain to remain up front to take home his $500 check.
The Northern SportMods put on a display of hard racing as the leaders found themselves side-by-side throughout a majority of the race. Austin Kiefer tried working the inside on George for the majority of the race. The show was an exciting preview of what is to come in the 2017 season as SportMods have been added to the schedule for 10 points races this season.
Soboski cruised to victory in the Hobby Stock division. Challengers were hard to find for Soboski until near the end of the race as he bested a hard charging Joe Vlasity who started dead last after a disqualification in his heat race for failing to report to the tech area. Vlasity picked his way through the pack but could not make the outside groove work enough to get around Soboski.
Feature Results
Modifieds – 1. Jason Wolla; 2. Cody Laney; 3. Tim Ward; 4. John Parmeley; 5. Brian Schultz; 6. Spencer Wilson; 7. Mike Strobl; 8. Scott Sluka; 9. Jason Noll; 10. Guy Norton; 11. Garrett Funk; 12. Kenny Gill; 13. Bubba Stafford; 14. Cole Peterson; 15. Austin Blume; 16. Nate Warren; 17. Bryson Curry; 18. Lance Mari; 19. Ronnie Wallace; 20. Grey Ferrando; 21. Collin Winebarger; 22. Tre­vor Miller; 23. Mark Stewart; 24. Ethan Dotson; 25. Troy Gemmill.
Heat winners were Wilson, Laney, Ferrando, Parmeley and Gemmill. "B" feature winners were Miller and Sluka.
Stock Cars – 1. Aaron Spangler, 2. Jason Jensen; 3. Cody Center; 4. Bo Partain; 5. Lonnie Foss; 6. Race Fisher; 7. Brian Hatlestad; 8. Justin Thornton; 9. Joey McCullough; 10. Nate War­ren; 11. Larry Brigner; 12. Tony Hill; 13. Troy Jerovetz; 14. George Fronsman; 15. Glen Hat­lestad; 16. Matt Short; 17. Vance Honea.
Heat winners were Spangler, Fronsman and Jerovetz.
Hobby Stocks – 1. Steve Soboski; 2. Joe Vlasity; 3. Merle Zachrison; 4. Steve Bitting; 5. Dean Zachrison; 6. Kurt Kesselring; 7. Paul O'Connor; 8. Mark Kilian; 9. Susie Mikkelson; 10. Aaron Collier; 11. Brad Larned; 12. Shea Kendig; 13. Jason Crowe; 14. Bradley Stafford; 15. Shane Raines.
Heat winners were Soboski and Bitting.
Northern SportMods – 1. Jason George; 2. Austin Kiefer; 3. J.C. Parmeley, 4. Chris Toth; 5. Chris Caldwell; 6. Lupe Gomez; 7. Kenny Wyman; 8. David Jones; 9. Bill Miller; 10. Dylan Ickes; 11. Bill Ferguson; 12. Chuck Black; 13. David Ruth; 14. Dale Irby; 15. Nick Langer; 16. Steven Duffy; 17. Dale Kunz; 18. Dennis Gates; 19. Jim Macneil; 20. Jimmy Terstrip.
Heat winners were Gomez, Toth and Kiefer.