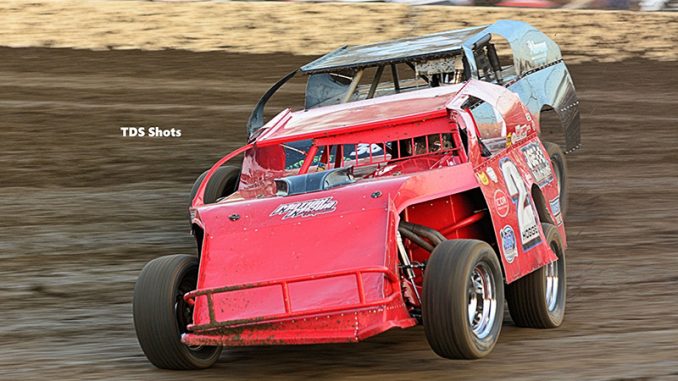 WATSONVILLE, Calif. (Sept. 30-Oct. 1) – Bobby Hogge IV found himself riding with an uneasy feeling of déjà vu late in the Pat Pettit Memorial main event at Ocean Speedway.
But after working his way through lapped traffic, Hogge backed up his $1,003 Friday night win at Watsonville with the $3,003 Xtreme Motor Sports IMCA Modified main event checkers on Saturday.
"Last year I had about a half a lap lead before a late restart and Alex Stanford passed me," he said. "This year I started 11th, got to the lead and was able to get through lapped traffic. After that it was smooth sailing."
Hogge ran three-wide with front-row starters Stanford and Nick DeCarlo for the lead, catching Stanford first and then driving past DeCarlo two laps later.
Stanford, DeCarlo, Cody Burke and Robby Sawyer completed the top five in the 33-lapper.
Ryan McDaniel, Kellen Chadwick, Ethan Dotson and Stanford were second through fifth, respectively, in the Friday show, also 33 laps.
Both features were Fast Shafts All-Star Invitational ballot qualifiers and Hogge was already vote eligible. He'd started third on opening night, fell back as far as seventh after wadding his front bumper and then raced his way to the front.
The race ended green, white checkered. Chadwick advanced 13 spots from his original starting spot, Dotson 16 positions and Stanford 14.
"We bolted on a new right rear tie and straightened the bumper after Friday. I don't like making a lot of changes. It's a repeatability thing. I've got a good, consistent car and I know what it's going to do," Hogge said. "My dad and I have a good maintenance program. He builds the motors and we really pride ourselves on our motor program."
Hogge had won the Friday feature last year and the Saturday show at the 2014 Pettit Memorial.
"We race with a lot of the best competition in California and hope to carry this momentum to other big shows, especially the Duel In The Desert," he said. "That's kind of our crown jewel around here. I like racing against the best and we get to do that at Las Vegas."
Brian Cooper was the winner of both Karl Chevrolet Northern SportMod features at Ocean.
Sept. 30 Feature Results
Modifieds– 1. Bobby Hogge IV; 2. Ryan McDaniel; 3. Kellen Chadwick; 4. Ethan Dotson; 5. Alex Stanford; 6. Jim Pettit; 7. Nick DeCarlo; 8. Randy Brown; 9. Stephen Hopf; 10. Clay Daly; 11. Ryan Porter; 12. Brian Cass; 13. Alex Wilson; 14. Freddie Plourde; 15. Mike Vukelich; 16. Bill Egleston; 17. Randy McDaniel; 18. Robert Marsh; 19. Paul Stone; 20. Robby Sawyer; 21. Slaney Anthony; 22. Jeremy Richey.
Northern SportMods – 1. Brian Cooper; 2. Todd Cooper; 3. Jordan Hagar; 4. Rick Diaz; 5. Jim DiGiovanni; 6. Adriane DeSousa-Frost; 7. Fred Ryland; 8. Jerry Bartlett; 9. Cale Kanke; 10. Josh Hensely; 11. Brian Pearce; 12. Justin McPherson; 13. Gary Tucker; 14. Al Johnson; 15. Mark Odgers; 16. David Pierce; 17. Robert Huckaby Jr.; 18. Igor Gandzjuk; 19. Matt Jenner; 20. Nick Spainhoward; 21. Trevor Clymens.
Oct. 1 Feature Results
Modifieds – 1. Hogge; 2. Stanford; 3. DeCarlo; 4. Cody Burke; 5. Sawyer; 6. Troy Foulger; 7. Ryan McDaniel; 8. Dotson; 9. Egleston; 10. Pettit; 11. Hopf; 12. Stone; 13. Porter; 14. Richey; 15. Riley Simmons; 16. Wilson; 17. Kenny Nott; 18. Tim Balding; 19. Jeff Streeter; 20. Austin Burke; 21. Marsh; 22. Randy McDaniel.
Northern SportMods – 1. Brian Cooper; 2. Matthew Hagio; 3. Spainhoward; 4. Diaz; 5. Brian Pearce; 6. Hagar; 7. Todd Cooper; 8. Ryland; 9. DiGiovanni; 10. Tucker; 11. DeSousa-Frost; 12. Shane DeVolder; 13. Bartlett; 14. Chris Falkenberg; 15. Matt Lewis; 16. Phillip Shelby; 17. Mike Medel; 18. Hensley; 19. Odgers; 20. Darren Thomas; 21. Dave Gibson; 22. Danny Roe.