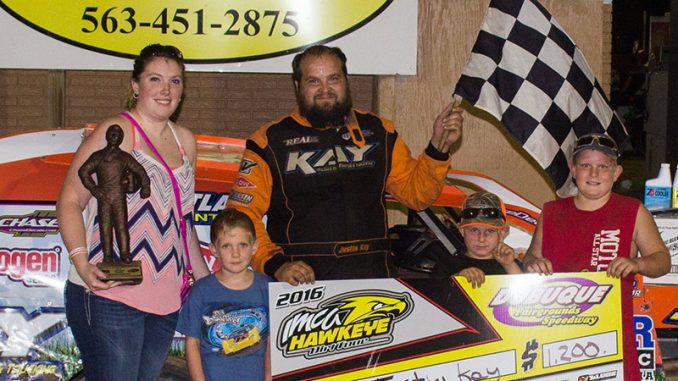 DUBUQUE, Iowa (July 26) – The storyline behind Justin Kay's career second Hawkeye Dirt Tour victory reads a lot like that of his first.
Like he did last week at Knoxville, Kay started Tuesday's Xtreme Motor Sports IMCA Modified main event at Dubuque Speedway from the pole.
And as was the case both nights, tour point leader Chris Abelson was briefly ahead before Kay charged back in front, this time earning $1,200 and a berth on the ballot for the 2017 Fast Shafts All-Star Invitational.
Forty IMCA Modifieds were on hand for the county fair show, the first tour event held at Dubuque and the seventh of 10 events on the 2016 series schedule.
"It was fun," said Kay. "Racing a Modified is relaxing and I'm getting to do it at tracks I really like. It's fun to race with different people, guys like Abelson, (Darin) Duffy and (Ryan) DeShaw."
Kay was scored first cross the line on each of the 30 laps. He ran three-wide with Abelson and Duffy down the backstretch on lap 18, then saw Abelson eke ahead in the first set of turns on lap 22 before passing him back in three and four.
He'd pull away from that point to win by more than a straightaway and had just gotten into lapped traffic when the checkers flew.
Making another long tow to race at an HDT track for the first time, Abelson had started sixth.
"I had one shot to get by him on a restart and I took a chance," he said. "Justin's car was just better. He's pretty tough."
Duffy and DeShaw completed the top four while hard charger Kelly Shryock advanced 18 positions to fifth.
Kay is the two-time defending IMCA Late Model track champion at Dubuque and agreed that all those laps helped put him in the winner's circle Tuesday night.
"This was the first time I'd ever raced here in a Modified," he said. "It definitely helped to have raced a Late Model here the last two or three years. I kind of knew what the track was going to do."
He'll have the chance to race for an unprecedented third straight HDT feature win and another Deery Brothers Summer Series trophy when those two tours are at Cedar County Raceway in Tipton for a Tuesday, Aug. 2 twinbill.
Pit gates open at 4:30 p.m. and the grandstand opens at 5 p.m. Hot laps are at 6:45 p.m. with racing to follow.
Average car count for the Hawkeye Dirt Tour going into the event at Tipton is better than 38 and that number will likely be topped Tuesday night.
Feature results – 1. Justin Kay, Wheatland; 2. Chris Abelson, Sioux City; 3. Darin Duffy, Urbana; 4. Ryan DeShaw, Dyersville; 5. Kelly Shryock, Fertile; 6. Matt Gansen, Zwingle; 7. Jeremiah Hurst, Dubuque; 8. Mark Schulte, Delhi; 9. Joel Rust, Grundy Center; 10. Brian Irvine, Oelwein; 11. Jed Freiburger, Dubuque; 12. J.D. Auringer, Evansdale; 13. Ethan Dotson, Bakersfield, Calif.; 14. Ronn Lauritzen, Jesup; 15. Kenny Kostenbader, Freeport, Ill.; 16. Austin Moyer, Dubuque; 17. Troy Cordes, Dunkerton; 18. Corey Dripps, Reinbeck; 19. Mark Elliott, Webster City; 20. Derek Thompson, Monroe, Wis.; 21. Bryce Garnhart, Shannon, Ill.; 22. Tony Von Dresky, Long Grove; 23. Jason Schueller, Dubuque; 24. Jeff Larson, Freeport, Ill.
1st heat (top two) – 1. Thompson; 2. Freiburger; 3. Rust; 4. Schulte; 5. Schueller; 6. Elliott; 7. Kaleb Bentley, Fairbank; 8. John Campbell, Dubuque.
2nd heat – 1. Abelson; 2. Von Dresky; 3. Larson; 4. Logan Rogers, German Valley, Ill.; 5. Lauritzen; 6. Rod McDonald, Manchester; 7. Shryock; 8. Auringer.
3rd heat – 1. Kostenbader; 2. Hurst; 3. Cordes; 4. Ryan Maitland, Waterloo; 5. Irvine; 6. Brandon Maitland, Waterloo; 7. David McClain, Potosi, Wis.; 8. Keith Pittman, Waterloo.
4th heat – 1. Duffy; 2. DeShaw; 3. Dotson; 4. Moyer; 5. Jacob Waterman, Milan, Ill.; 6. Tyler Madigan, Dubuque; 7. Steve Johnson; 8. Dave Hammond, DeWitt.
5th heat – 1. Kay; 2. Gansen; 3. Garnhart; 4. Cody Laney, Torrance, Calif.; 5. Kyle Brown, State Center; 6. Sean Rupp, Cuba City, Wis.; 7. David Brown, Kellogg; 8. Dripps.
1st "B" feature (top four) – 1. Irvine; 2. Rust; 3. Dotson; 4. Elliott; 5. Laney; 6. David Brown; 7. Madigan; 8. Rogers; 9. Hammond; 10. McDonald.
2nd "B" feature – 1. Larson; 2. Garnhart; 3. Schueller; 4. Auringer; 5. Waterman; 6. Dripps; 7. Ryan Maitland; 8. McClain; 9. Rupp; 10. Campbell.
3rd "B" feature ­– 1. Schulte; 2. Cordes; 3. Lauritzen; 4. Moyer; 5. Shryock; 6. Kyle Brown; 7. Johnson; 8. Pittman; 9. Bentley; 10. Brandon Maitland.