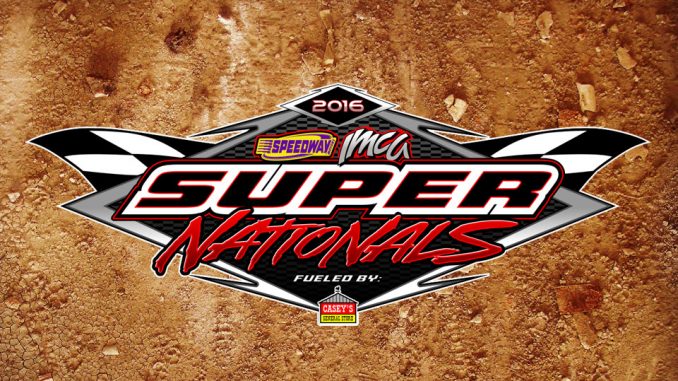 BOONE, Iowa – It's a good problem to have, but a problem nonetheless.
With another division added to the program, IMCA and track officials have been pro-active in mak­ing sure there's enough pit area parking for the 34th annual IMCA Speedway Motors Super Nationals fueled by Casey's, to be held Monday through Saturday, Sept. 5-10 at Boone Speed­way.
In particular, the pits will be expanded to include the cell phone tower area south of the existing pit area. Divisions that run complete programs on a single day – the Southern SportMods on Monday, Sport Compacts on Tuesday and Deery Brothers Late Models on Thurs­day – will all have reserved space in that area, which will also accommodate overflow in all other divisions.
Modifieds and Stock Cars can move in before their qualifying resumes on Friday.
"We have addressed a number of issues at Super Nationals to be as accommodating as possible and pit parking has been number one," said IMCA President Brett Root, also citing turn one seating and bleacher seating adjacent to the hot pit. "We need to get drivers on and back off the track as efficiently as possible. It's a balancing act to say the least."
"We are making the appropriate adjustments with the flow between the pit area and the track," he added. "It will be a big improvement and people will see that."
Turn one grandstand seating will be available each night of Super Nationals and Root anticipates the expanded pit area to have no effect on layout of the camping area.
Forms for Super Nationals pre-entries, pit parking, camping and the duffers' golf tournament will be posted soon on both the IMCA (www.imca.com) and Boone Speedway (www.raceboone.com) websites.
Beginning this year, drivers who reserve pit stalls must also complete the pre-entry process.
"This will give us a better idea of who is coming to Super Nationals and car counts for each divi­sion," Root explained. "It also eliminates the extra work that goes with selling pit spots without knowing who actually goes there."
Pre-tech starts Sunday, Sept. 4 for Hobby Stocks and Northern SportMods. Southern SportMods crown their first-ever Super Nationals champion on Labor Day Sept. 5.
"There's a lot of excitement from the standpoint of Southern SportMod drivers who have wanted to be part of Super Nationals," Root said. "Some of them might get to Boone early enough to hot lap on Saturday or they can use Sunday as a travel day."
"We hope to get a good turnout of Southern SportMods," he continued. "We are putting together very good contingencies for them."
The Fast Shafts All-Star Invitational is Friday, Sept. 9. Races of champions and main events for Hobby Stocks, SportMods, Stock Cars and Modifieds are Saturday, Sept. 10.
"We may start later on Saturday," Root said. "We got most of the bugs in the final day program worked out last year so we might push our start time back to 3 p.m."